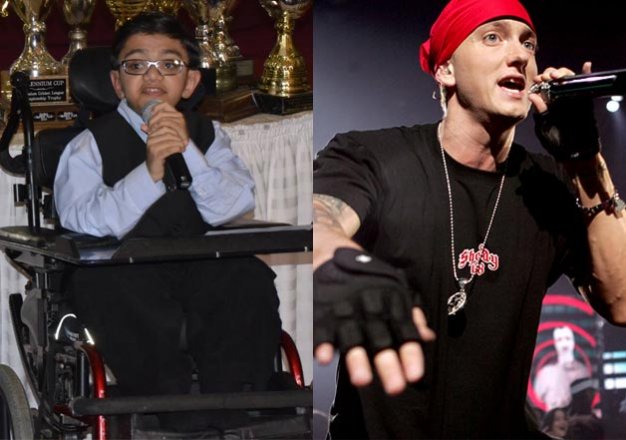 New Delhi: 12-year old Sparsh Shah who hails from New Jersey has become Internet's latest sensation. Why you ask? Well, he just added loads of classical touch to global star Eminem's chartbuster song 'I am not afraid' that left everyone spellbound.
In his version of 'I am not afraid' we can clearly see his eyes shining from his childlike innocence. This purity however, doesn't deter him from giving him a performance like a rock star with all the right gestures of hands.
Sparsh who goes by the name of PURHYTHM, suffers from Osteogenesis Imperfecta, a disorder which makes bones extremely brittle. Sparsh wrote on his Facebook page that he has suffered over 125 fractures till date.
Despite a disorder, Sparsh hasn't given up on his dreams. While sharing his cover on his Facebook page he thanked his parents and his "biggest idol, Eminem". While we are impressed by this little wonder's skills, it is also worth pointing out that he is blessed with wit. His FB page reads, "Typically replies within an hour."
We are sure his rendition will make you bless him on his FB page and who knows he might reply in an hour.
Watch it right here: