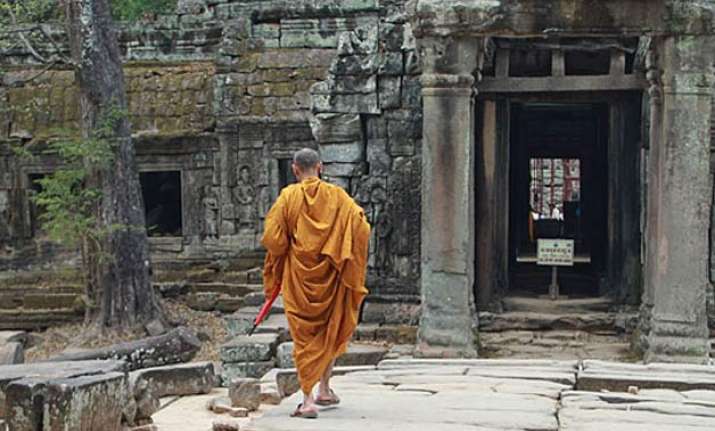 New Delhi: In a hope to redeem his bad karma, a Thai gardener behind a heist valued at $20 million about three decades ago has become a Buddhist monk. Kriangkrai Techamong, stole precious gems from the palace of a Saudi prince in 1989.
Techamong's action triggered a feud between Thailand and Saudi Arabia. The dispute got the name, "Blue Diamond Affair" and it hasn't been resolved yet.
The dispute earned this title because of a rare 50-carat blue diamond whose whereabouts are bundled up in a mystery. The Thai police returned most of the precious gems (which were fake), except the blue diamond to Saudi Arabia.
The gardener told local media that his theft brought about a lot of misfortune to his family prompting him to become a monk. "I am confident that all my misfortunes are the result of a curse from the (blue) Saudi diamond I stole, so I've decided to enter the monkhood for the rest of my life to redeem my bad karma," he was quoted by AFP.
According to media reports, on the fateful night, the former janitor sneaked into a palace bedroom of Saudi prince Faisal, broke a safe and stole jewellery worth $20 million.
The 60-year-old said that he wishes to remain a monk indefinitely and leave his family behind.
Saudi Arabia had accused Thai Police of bungling the investigation also alleging that senior Thai police officers snapped some stolen items.
Riyadh sent a businessman to Thailand to carry on an investigation independently, but he disappeared from Bangkok. The businessman's disappearance occurred exactly three days after three Saudi officials were shot dead, in execution style, in the city.
The court dropped the case against five men in 2014, for their alleged involvement in the businessman's murder. These five men included a senior Thai policeman and the decision was given by a judge who was appointed at the last minute.
Today, Thailand-Saudi Arabia relations remain poor. Riyadh does not retain an ambassador in Bangkok and bans its citizens from visiting Thailand as tourists.