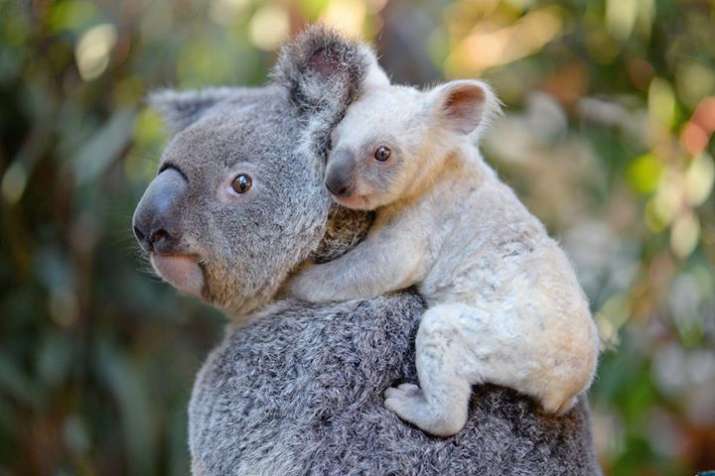 Australian zoo is going gaga over this incredible little creature. A rare white koala joey was born on Tuesday and within no time she developed a huge fan following. 
The white koala is one of 12 joeys born this season at Australia Zoo established by the legendary "Crocodile Hunter" Steve Irwin in Queensland state, Xinhua news agency reported.None of her siblings share her characteristic colouring, which is thought to be the result of a recessive gene inherited from her mother's side.
Conservationist and CEO of the Australian Koala Foundation Deborah Tabart said she was thrilled by the news and hoped the focus on this joey could direct attention to koala conservation generally."People love white koalas, they are just so unique and beautiful, and they really capture people's imagination," Tabart said. "If zoos have a good strong conservation message, the birth of a white koala might do wonders. The Irwin family always does a great job in highlighting the importance of conservation."
Despite her white fur, the koala's brown eyes and nose mean she is not an albino - and though albino koalas are rare, it is even more unusual for a koala to have white fur and not have albinism. Hospital director at the zoo Rosie Booth said that when animals are born with white or extremely pale fur it is expected they will eventually shed the fur and their colouring will gradually become darker as they age. However, it is her white fur that is sure to attract crowds at the Sunshine Coast zoo, while the koala is on display with her mother and siblings. "I'm sure the koala will be a hit with crowds. It's just the dearest little thing," said Tabart.
Zoo authorities asked people to name this cuddly creature via Facebook. Thousands of people across the country responded, while some suggested traditional Aboriginal names whereas others took inspiration from Daenerys, a character in Game of Thrones who also has white hair.
(With IANS inputs)