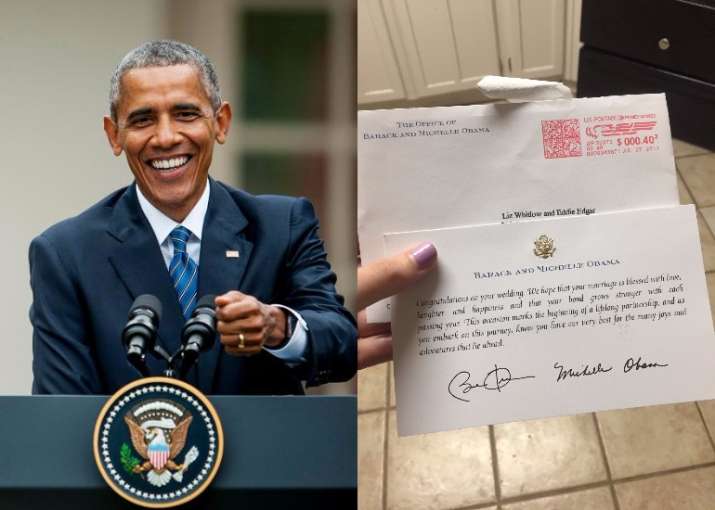 What happens when you invite United States Former President Barack Obama for your daughter's wedding? Everyone could've expected Mr. Obama to simply overlook the wedding invitation. But this didn't happen with this mother who actually sent the wedding invite to Barack Obama for her daughter's wedding. Texas woman Brooke Allen's mom Liz Whitlow sent the wedding invite to Michelle and Barack Obama back in December. What happened next was not expected even in one's wildest dreams. 
The woman got a letter back congratulating the newlyweds. It says: 
"We hope that your marriage is blessed with love, laughter, and happiness and that your bond grows stronger with each passing year," the card reads.
"This occasion marks the beginning of a lifelong partnership and as you embark on this journey, know you have our very best for the many joys and adventures that lie ahead."
The delighted daughter took to Twitter to share the joy with her friends. She posted the picture having a note in her hand duly signed by Former President Barack Obama and his lady Michelle Obama. 
MY MOM DEADASS SENT THE OBAMAS A WEDDING INVITATION BACK IN MARCH AND JUST RECEIVED THIS IN THE MAIL. IM HOLLERING😂 pic.twitter.com/cUiRRAfrvD

— b (@96_brooke) July 31, 2017
Brooke also shared a screenshot of the conversation with her mom. In the conversation, her mom Whitlow is clarifying that she didn't send the invitation to POTUS Donald Trump. In no time, the tweet went viral. 
July 31, 2017
More than 500 twitter users have responded to the tweet and it has been retweeted more than 47,000 times. People are responding with congratulatory message while praising the courtesy of Obamas. Even after retirement they are responding to random people through mails. 
For more Trending news, follow our Facebook page