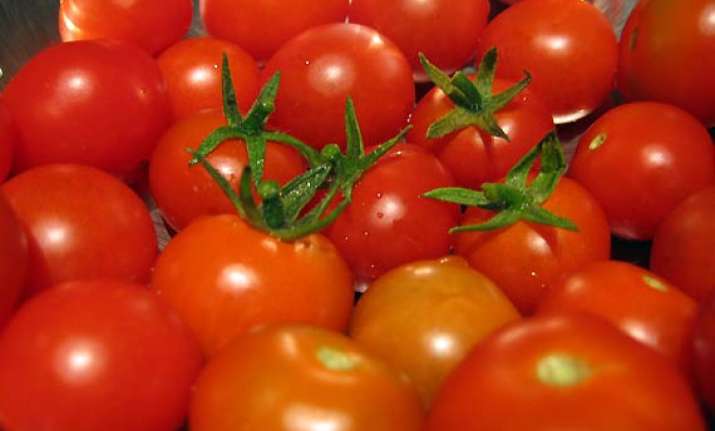 New Delhi, June 30: As the retail prices of tomatoes touched Rs 50 a kg, mustard oil Rs 98 a litre, greenpeas Rs 40 a kg in the markets, the government on Friday came out with statistics to say that food inflation has gone down to 7.78 per cent. 

The statistics report said food inflation declined to a one-and-a-half months low of 7.78 per cent for the week ended June 18 as vegetables and pulses became cheaper.

But the prices in retail markets tell a different story.  Arhar pulse sells at  Rs 60 a kg, Chana Rs 70 a kg, both potatoes and onions at Rs 15 a kg each, cauliflower Rs 40 a kg and brinjal sells at Rs 30 a kg. 

Adds PTI: Food inflation, as measured by the Wholesale Price Index (WPI), was 9.13 per cent during the previous week.

However, it was over 20 per cent during the comparable period of June, 2010, setting a high base for the rate of inflation. 

Vegetables became over 10 per cent cheaper year-on-year, as per data released by the government today. Prices of pulses went down by 9.50 per cent, while potato became cheaper by 2.39 per cent on annual basis.

"As monsoon progresses, we would see some drop in food prices... We expect some respite from high food prices on the basis of a good monsoon and sufficient food stocks in warehouses," Yes Bank chief economist Shubhada Rao said. 

The latest numbers are the lowest since the week ended May 7, when food inflation stood at 7.47 per cent.  It comes a day after Prime Minister Manmohan Singh said that inflation will come down to 6.5 per cent by March-end if international oil prices soften and commodity prices do not rise further.

Headline inflation in the country stood at 9.06 per cent in May.

Experts, however, cautioned that the moderation may not lead to a downturn in the headline inflation as commodity prices remain high and the Reserve Bank is likely to continue with its policy of monetary tightening.

"It (fall in food inflation) does not alleviate our concerns about other prices. The recent increase in fuel prices, for example, will impact headline inflation in the coming weeks," Rao said.

Inflation in overall primary articles stood at 11.84 per cent, down from 12.62 per cent in the previous week. Primary articles have a share of over 20 per cent in the WPI basket.  Meanwhile, inflation of non-food primary items stood at 17.91 per cent during the week ended June 18, down from 18.43 per cent in the previous week.

However, the hike in prices of diesel and kerosene announced last week by the government is yet to be reflected in these numbers.

Barring vegetables, pulses and onions, other food items saw an increase in prices.

"Inflation is down mainly due to higher base effect.  Fundamentally it still remains high," said financial services firm KASSA's director Siddharth Shankar.

He said fuel price hike will exert pressure in headline inflation numbers.

Economists have already said that overall inflation, which include manufactured items along with primary articles, will breach the double-digit mark by July.

Yes Bank's Rao said RBI is likely to hike its key policy rates by 25 basis points at its quarterly review slated for July 26. The Reserve bank already hiked rates 10 times since March 2010 to curb demand and tame inflation.