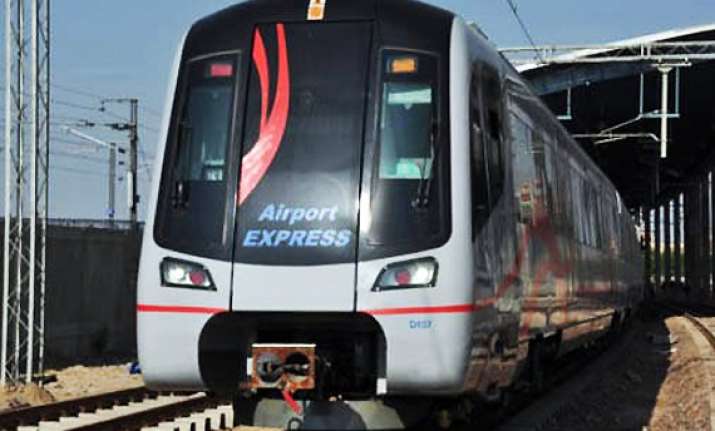 New Delhi, Dec 9: Delhi Metro today threatened take over of the Airport Metro Express corridor operated by Reliance Infrastructure if it fails to improve on train speed and frequency and reduce check-in time for fliers.

"If they (Reliance Infrastructure) don't improve, then we will have to think of even terminating the arrangements. We can take over and there is a provision for taking over (in the agreement)," Delhi Metro Managing Director E Sreedharan told PTI in an interview.

Sreedharan, who will demit office on December 31 after an eventful 16-year-tenure as Delhi Metro chief, said the organisation will wait for another three to four months for the operator to improve on the aspects raised by Delhi Metro.

"Three to four months. Otherwise, we have to give them final notice (for taking over). At least they should show their intention to improve," he said in reply to a question how long the Delhi Metro will wait for things to improve.  "Yes. Then we will have to take over," he said when asked what would happen if things do not improve in three-four months. He said Delhi Metro's PPP experience was not very pleasant with Airport model. Reliance Infra is operating the corridor on a 30-year lease.

"First of all, the works were not completed on time. The line was supposed to be ready for Commonwealth Games but it got delayed by five months. Even after opening, they have not been able to increase the speed to (the promised speed of) 120 kmph," he said.

"I am not very happy with the performance. It should have been an aristocratic type of service which it is not today," he said.

He pointed out several deficiencies like the train speed still being maintained at 105 kmph, the proposed frequency of 10 minutes not being implemented and two-hour check-in time for fliers who use the corridor which have to be corrected.

The Airport Express Line that takes passengers from Connaught Place to International Airport in just 18 minutes, is the first Metro project to be implemented under PPP.

The country's iconic 'Metro Man', who revolutionised the way of travel in Delhi through the Metro, said he had a meeting with the top brass of Reliance Infra couple of days back and told them to improve on a dozen areas. "I had a meeting with the top man (Anil P Gupta, President of Reliance Infra) three-four days back and we drew his notice to the areas that need improvement," he said, adding that the Delhi Metro could have managed things in a different way if it had to operate the corridor.

The areas include several improvements on train coaches as Sreedharan feels the trains are not as "good as we expected". The DMRC chief also said he has constituted a committee to go into the issue and submit a report within the next 15 days on corrective measures to be taken. The noise level inside the trains on Airport Metro is "very high" and the concessionaire will have to do a "lot of things to improve it," he said.

"There should be double windows in trains. Now they have only single windows. We have expertise in this field. So the committee will come out with measures," he said. Sreedharan said the operator has filed an application for increasing the speed to 120 kmph and the test is likely to be done by the end of this month.

He said the Delhi Metro is a "little soft" with Reliance Infra because the ridership is low and the operator was making "a lot of loses". "We don't want to rub," he said.

Contending that the corridor has not been able to attract many passengers even eight months after it became operational, he said the line should be carrying at least 30,000 to 40,000 passengers a day. The current ridership is around 20,000.

"They have to attract passengers to make it viable," he said, adding that Public Private Partnership projects have never been successful.