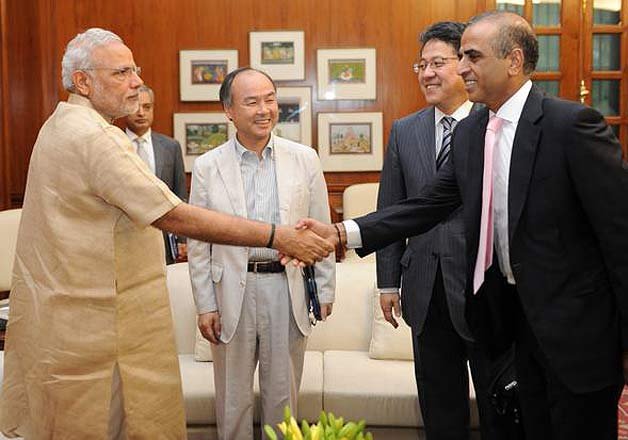 New Delhi: Betting big on India's renewable energy sector, Japan's SoftBank Corp together with Sunil Mittal's Bharti Enterprises and Taiwanese mobile handset maker Foxconn will invest USD 20 billion to generate 20 gigawatt of solar power.
SoftBank, which owns one of Japan's biggest mobile carriers and is the largest shareholder in Chinese e-commerce firm Alibaba, will have majority control in the three-way joint venture company, SBG Cleantech, with Bharti and Foxconn as minority stakeholders.
"Softbank will take lead and responsibility to make 20GW as a minimum commitment in solar space in India. In economic terms grossly USD 20 billion will be the scale of investment, probably it could be one of largest investment by a foreign company in India," Softbank Chairman and CEO Masayoshi Son told reporters here.
Government this month raised the solar power generation capacity addition target by five times to 100 gigawatts by 2022 under the National Solar Mission (NSM).
"It is a joint venture project so USD 20 billion is not Softbank portion only. I would like to see this happening in next 10 years but how fast we would be able to accelerate will depend on local and central government and availability of land," he said, adding that it would take two years for the project to start once all clearances and land is alloted.
Bharti Enterprises Chairman Sunil Mittal said SBG Cleantech Ltd will be headed by Manoj Kohli as its Executive Chairman, while Raman Nanda will be the Chief Executive Officer. It will be headquartered in New Delhi.
The Japanese telecom and Internet major SoftBank Corp had in 2011 set up SB Energy Corp to develop clean energy projects following the Fukushima nuclear disaster in Japan.
SoftBank, which has stakes in more than 1,000 companies the world over, has invested USD 1 billion in India in past nine months out of the USD 10 billion planned investment in Asia's third largest economy in 10 years.