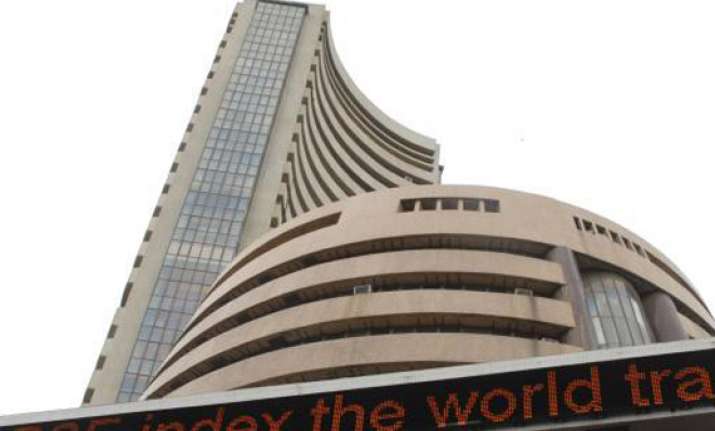 Mumbai, May 8:
The BSE barometer Sensex today plummetted by nearly 370 points to its almost four-month low of 16,546.18 points on brisk selling after RBI's weak outlook on rate cuts and fresh weakness in the rupee amid persisting FIIs concerns on GAAR and fresh Eurozone worries.
The Sensex fell to a low of 16,502.91 in the morning before and continued in trade in negative zone for most of session and ended at 16,546.18, a steep fall of 366.53 points or 2.17 per cent. Sensex's market value dropped by over Rs 53,000 crore today. ITC, TCS, HDFC Bank, Tata Motors and L&T contributed to a loss of 205 points in the blue-chip index.
Brokers said one of the main reasons for today's fall was RBI Deputy Governor Subir Gokarn's comment in Hyderabad that there is little room for reduction in interest rates in view of inflationary pressures. Bank stocks in Sensex such as SBI, HDFC Bank and ICICI Bank fell between 2-3.3 per cent.
"Comments from RBI's deputy governor Subir Gokarn that the central bank now has relatively little room to cut interest rates negated the sentiments," said Shanu Goel, Senior Research Analyst, Bonanza Portfolio.
TCS led the Sensex fall shedding 5.77 per cent and was the biggest loser in the 30-share benchmark, followed by Bhel (-4.86 pc), ITC (-3.88 pc) and Tata Motors (-3.88 pc).
Analysts said though GAAR has been deferred by one year, FIIs would not be flocking to Indian markets just yet as they would still await for more clarity on provisions. Besides, they will move their operations from Mauritius to Singapore etc, adding to their costs while disturbing operational smoothness, they added.
Selling pressure was mainly seen in Capital Goods, IT, Banking, TECK, Power, FMCG and Auto sectors as its indices declined sharply between 3.44 per cent and 2.40 per cent.
The NSE 50-share Nifty also fell by 114.20 points or 2.23 per cent to finish below 5K-mark at 4,999.95.
IT shares reacted negatively after IT firm Cognizant yesterday lowered its revenue guidance for 2012. Infosys shares fell by 1.6 per cent while Wipro slid by 1.9 per cent.  Brokers said Indian market's performance was in contrast to Asian peers. Most Asian shares ended higher after Monday's steep slide. But, the rebound was constrained by political uncertainty in Greece.
Key benchmark indices in Singapore, Taiwan, Japan, South Korea and Taiwan rose by between 0.10 per cent to 0.69 per cent while China's Shanghai Composite and Hong Kong's Hang Seng eased by 0.12 per cent to 0.25 per cent.
European markets too were trading weak in their afternoon deals as the leader of Greece's biggest party failed to form an agreement on a new government after elections. The France (CAC) was down by 1.92 per cent, the Germany (DAX) by 1.05 per cent and the UK (FTSE) by 0.35 per cent.
In Sensex, 25 out of 30 components closed in the red while only five finished in the green.
Other major losers were L&T (3.70 pc), Sterlite Industries (3.46 pc), SBI (3.32 pc), Jindal Steel (3.29 pc), Tata Steel (3.23 pc), HDFC Bank (3.14 pc), Hero MotoCorp (3.04 pc), Tata Power (2.60 pc), ICICI Bank (2.05 pc), M&M (2.05 pc), Wipro (1.89 pc) Bajaj Auto (1.42 pc), ONGC (1.19 pc) and RIL (0.93 pc).
However, Coal India rose by 2.04 per cent, Gail India by 1.63 per cent and Hindalco by 1.16 per cent.
The total market breadth on the BSE turned negative as 1,688 stocks closed with losses as against 1,052 that settled with gains. The total turnover was slightly up at Rs 2,115.39 crore from Rs 2,066.68 crore yesterday.
FIIs sold shares worth Rs 630.81 crore yesterday as per provisional data from the stock exchanges.