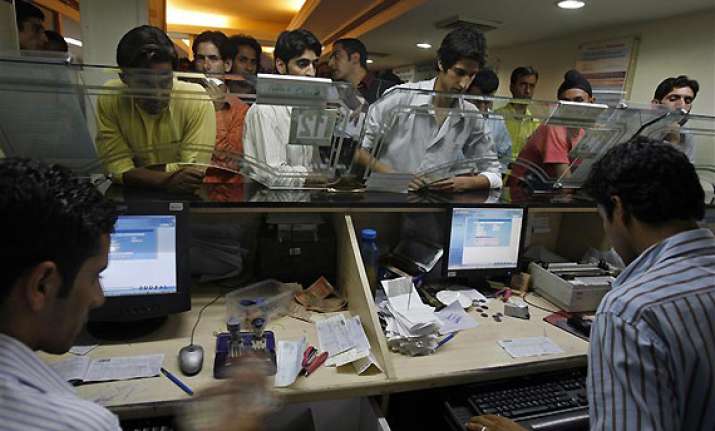 New Delhi, Mar 27: Country's largest lender SBI today raised fixed deposit rates on select maturities by up to 1 per cent, amid tight liquidity situation.  
Fixed deposits with maturity period of 7-90 days will earn eight per cent interest against existing seven per cent, State Bank of India (SBI) said in a statement.  
The new rates would be effective from tomorrow.  Interest rates on 91-179 day and 181-240 day period fixed deposits have been raised by 0.75 per cent and 1 per cent, respectively.
The rate of interest will be 8 per cent now.  Interest rate on 241-day to one-year deposits has been raised by just 0.25 per cent to 8 per cent.  
SBI becomes the fourth public sector bank to increase fixed deposits rates this month, a move others will follow.  The bank has left interest rates on fixed deposits beyond one-year maturities unchanged.
SBI last revised its fixed deposit rates in August 2011.  Earlier this month, Bank of Baroda and Bank of India had also raised deposit rates.
According to analysts, hike in fixed deposits rate of short-term maturities is mainly because of tight liquidity situation in the system.
Tight liquidity situation in the system had forced banks to borrow over Rs 1.90 lakh crore from the Reserve Bank of India (RBI) yesterday.
Borrowing through liquidity adjustment facility (LAF) touched a high of Rs 1.95 lakh crore, breaking a previous record set earlier this year following advance tax payment.  
To improve liquidity in the system, RBI had earlier this month reduced the cash reserve ratio (CRR) -- the portion of deposits banks require to keep with the central bank—from 5.5 per cent to 4.75 per cent to inject Rs 48,000 crore in the economy.