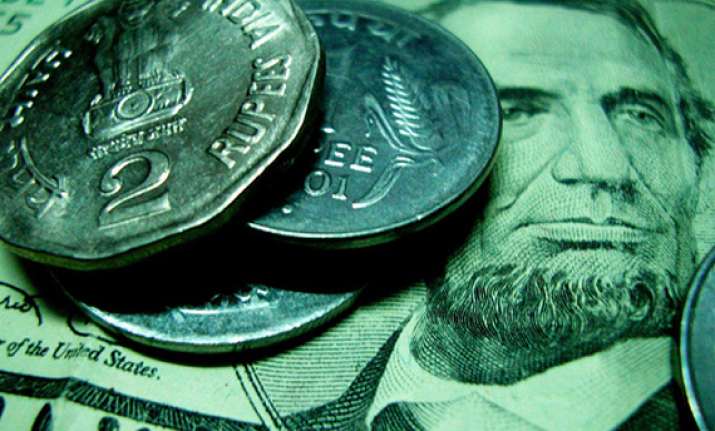 Mumbai, Jan 5: The Indian rupee softened by 3 paise to close at Rs 52.98/99 against the US dollar today after two days of gains, in line with a minor fall in local equities.

Mild dollar demand from importers amid dollar firmness of in overseas markets—with the American currency being quoted at nearly a 16-month high against the euro—also weighed on the rupee fortunes.

However, increased capital inflows amid some dollar-selling by exporters on hopes of RBI intervention restricted the rupee's fall.

At the Interbank Foreign Exchange, the local unit resumed lower at Rs 53.04/05 per dollar, as against yesterday's close of Rs 52.95/52.96 per dollar, and fell immediately to a low of Rs 53.10 per dollar on initial weakness in the stock market and dollar demand from importers.

A smart recovery in local equities later in the trading session and some dollar-selling by exporters helped the rupee rebound to a high of Rs 52.62. However, late weakness in local stocks pulled it down again and it settled slightly lower at Rs 52.98/99 per dollar.

The BSE benchmark Sensex closed 25.56 points, or 0.16 per cent, lower today after gaining over 97 points at mid-session.

The dollar index, a gauge of six major currrencies, was up by nearly 0.6 per cent, while crude for New York delivery were trading above USD 102 a barrel in the European market today.

Alpari Financial Services (India) CEO Pramit Brahmbhatt said, "During the day, the Indian rupee made an intra-day high of Rs 52.61, but in the second half of the trading session, the rupee reacted to negative local equities and gave away the intra-day gains. The euro traded at 15-month low against the dollar as concerns over the euro zone's deepening debt crisis."

"Now major resistance for rupee is at Rs 52.80 and the trading range for the rupee will be Rs 52.65 to Rs 53.30 tomorrow," he added.

"According to our prediction yesterday in this report, the local unit has shown a correction to Rs 52.66 levels. Food inflation data today came out at -3.36 per cent. This is a very good sign for the Indian economy, indicating a reversal in the interest rate cycle. Rupee went in red tracking the sliding euro against the dollar," India Forex Advisors CEO Abhishek Goenka said.

"USD-INR has strong support at 52.50 levels. However, today it can be seen that it was not able to break it and again depreciated to Rs 52.98 levels. This indicates that the dollar is still maintaining its bullish phase and we can easily target Rs 53.50 levels in the medium-term." he added.

FIIs have pumped USD 109.59 million into the Indian equity market in the past two days, as per SEBI data.

The rupee premium for the forward dollar ended sharply lower on sustained receivings by exporters.

The benchmark six-month forward dollar premium payable in June dropped to 147-149 paise from the overnight level of 154-156 paise and far-forward contracts maturing in December also dipped to 241-243 paise from 253-255 paise previously.

The RBI has fixed the reference rate for the US dollar at Rs 52.7810 and for the euro at Rs 68.1905.

The rupee improved further against the pound sterling to settle at Rs 82.32/34 today, as against yesterday's close of Rs 82.65/67, and shot up to Rs 67.99/68.01 per euro from Rs 68.72/74.

It hardened against the Japanese yen to Rs 68.95/97 per 100 yen from its previous close of Rs 69.05/07.