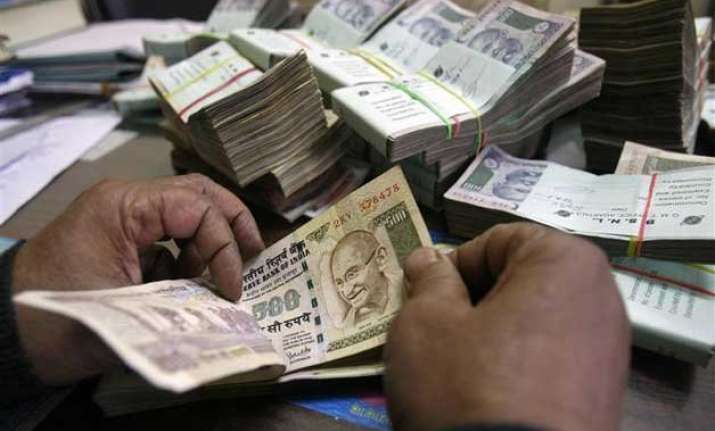 Mumbai: Bucking a fall in stocks, the Indian rupee today gained 16 paise to end at 62.81 against the American currency on fresh selling of dollars by banks and exporters.
While the US dollar hit 12-year high against the Euro earlier in the day ahead of Fed policy meet, the greenback gave up some gains later. This helped boost the sentiments in favour of the rupee.
At the Interbank Foreign Exchange (Forex) market, the rupee resumed slightly lower at 62.98 per dollar from last Friday's close of 62.97. It drifted lower to 62.99 per dollar on initial dollar demand from banks.
However, the rupee recovered afterwards to 62.76 on renewed selling dollars by banks before ending at 62.81 per dollar, showing a gain of 16 paise or 0.25 per cent.  The local currency hovered in a range of 62.76 per dollar and 62.99 per dollar during the day.
In global forex markets, the euro recouped its earlier losses against the dollar after briefly touching a fresh 12-year low against the dollar in Asia trade today as short-covering kicked in. But further slides in the single currency look possible given the diverging monetary policies in the eurozone and the U.S, said forex traders.
In New York, the US dollar resumed its climb against basket currencies in early trade after last weekend's losses, ahead of key US Federal Reserve meet meet starting this week.
Pramit Brahmbhatt, Veracity Group, CEO said, "As we have seen, fresh selling of the American currency by exporters and the local equity index fall has capped the rupee gain."
The trading range for the spot USD/INR pair is expected to be within 62.40 to 63.40, he added.
Meanwhile, the benchmark 30-share BSE Sensex ended lower by 65.59 points or 0.23 per cent to 28,437.71.
Meanwhile, the forward premia dropped further on sustained receipts by exporters.
The benchmark six-month premium payable in August moved down to 218-220 paise from last weekend's level of 222.5- 224.5 paise. The forward contracts maturing in February 2016 fell to 433.5-435.5 paise from 435-441 paise.  The Reserve Bank of India fixed the reference rate for dollar at 62.8215 for Euro at 66.1699.
The rupee remained firm against the pound to 92.86 from 93.33 previously and also moved up to 51.79 per 100 Japanese yen from 51.85. It rose to 66.16 per euro from 66.66.