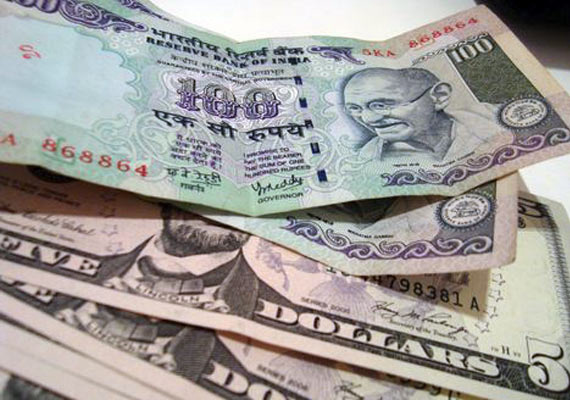 Mumbai, Feb 17: The rupee today closed flat at 49.27/28 against the American currency after dollar demand from importers, mainly oil refiners, pulled down the local currency from its intra-day high levels.

Sustained capital inflows too aided the sentiment, a forex dealer said, adding that dollar demand, tracking oil movement in New York, refiners went up.

At the Interbank Foreign Exchange market (Forex), the domestic unit touched a high of 49.1550 intra-day amid a smart rally in local stocks. Soon, it fell fell to a low of 49.35 on strong demand for the US currency.

A later dollar selling by exporters on hopes of a further fall in its value in global markets improved the rupee sentiment towards the close of trade.

Dollar index was trading nearly flat with negative bias on increased hopes for a deal on a Greek bailout next week.  The dollar index of six major rivals was up by nearly a mere 0.05 per cent in European market.

Meanwhile, the BSE benchmark Sensex, which was up by about 269 points in late morning trade, washed out its gains, still closing higher by over 135 points or 0.75 per cent.

In the New York market, the dollar turned down against the euro yesterday following reports that some of Europe's national central banks may be willing to swap their Greek debt holdings, and European leaders are on track to approve money aid to Greek next week.

Meanwhile, FIIs pumped in total over USD 2.8 billion in equities in the current month till February 16 and over USD 4.8 billion in 2012 so far.

Alpari Financial Services (India) CEO Pramit Brahmbhatt said, "Rupee traded slightly upwards against the greenback taking cues from strong local equities which closed up mainly supported by FIIs buying. The dollar demand from oil importers capped the rupee gain."

The rupee premium for the forward dollar ended higher on fresh paying pressure from banks and corporates.

The benchmark six-month forward dollar premium payable in July rose to 159-161 paise from Wednesday's close of 155-1/2-157-1/2 paise and far-forward contracts maturing in January ended strong at 289-1/2-291-1/2 paise from 282-284 paise.

The RBI has fixed the reference rate for the US dollar at 49.2128 and for euro at 64.5849.

The rupee reacted downwards against the pound sterling to finish at Rs 77.97/99 from previous close of Rs 77.48/50 while improved further against the euro to Rs 64.67/69 from Rs 64.87/89. It strengthened further against the Japanese yen to Rs 62.31/33 per 100 yen from last close of Rs 62.74/76.