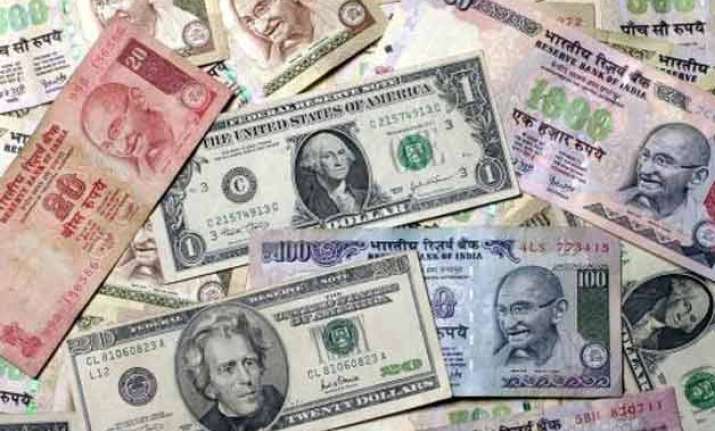 Mumbai: The rupee declined by 34 paise to close at one-week low of 66.48 against the US dollar on persistent month-end demand for the American currency from importers despite a lower greenback in the overseas market.
Besides, fresh fall in equity market affected the value of the rupee against the US dollar.
The domestic currency resumed lower at 66.25 against last Friday's closing level of 66.14 at the Interbank Foreign Exchange (Forex) market and dropped further to 66.49 before ending at one-week low of 66.48, showing a loss of 34 paise or 0.51 per cent.
The rupee had last closed at 66.65 on August 24, 2015. It has lost 44 paise, or 0.67 per cent, in last two days.
It moved in a range of 66.49 and 66.20 during the day.
Oil prices fell in Asia today, coming under pressure as dealers took profits from huge gains in the previous session and tried to gauge the outlook for the US economy and its taste for crude.
US benchmark West Texas Intermediate for October delivery eased 79 cents to USD 44.43 while Brent crude for October fell USD 1.00 to USD 49.05 in late-morning trade.
Meanwhile, the benchmark BSE Sensex ended lower by 109.29 points, or 0.41 per cent, to settle at 26,283.09.
Veracity Group CEO Pramit Brahmbhatt said, "Investors continued to stay away from the uncertain market. Also, the month-end dollar demand from oil importers further forced the rupee to depreciate almost half per cent for the day."
Meanwhile, in New York, the US dollar was trading lower against its major rivals, but was off recent lows as investors kept alive hopes that jobs data later this week would give the Federal Reserve reason to raise interest rates as early as next month.
In Tokyo, the dollar was trading lower against the yen and the euro in Asian trade today, with weakness in Asian stock markets again prompting flights to the perceived safety of the Japanese and eurozone currencies.
The trading range for the Spot USD/INR pair is expected to be within 66.00 to 67.00.
In forward market today, premium for dollar ended lower on good receivings from exporters.
The benchmark six-month premium payable in January softened to 177.5-179.5 paise from 181-181.75 paise on last Friday and far-forward contracts maturing in July 2016 also dropped to 393-395 paise from 400-400.5 paise previously.
The RBI fixed the reference rate for the dollar at 66.3062 and for the euro at 74.4950.
The rupee fell against the pound sterling to close at 102.51 from last Friday's level of 101.74 and also dropped against the euro to 74.54 per euro from 74.49.
It fell against the Japanese currency to finish at 54.79 per 100 yen from 54.70 on last Friday.