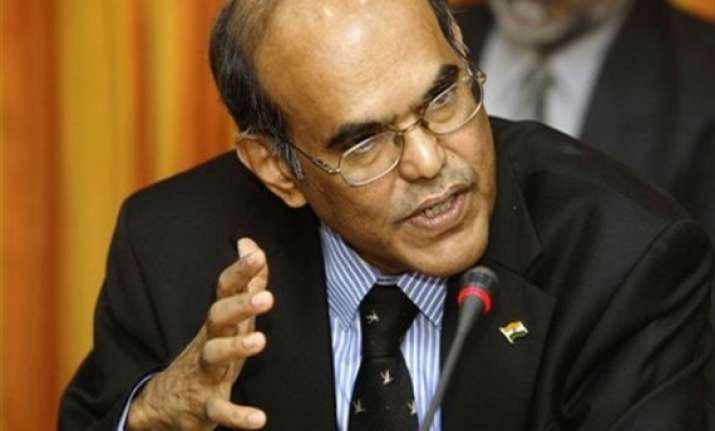 Mumbai, Jun 20: Under attack for not reducing interest rates, Reserve Bank Governor D Subbarao on Tuesdaysaid inflation at current levels is unacceptable and it is the collective responsibility of the government, the central bank and the industry to revive economic growth.  
"I believe that it's a shared responsibility of the government, of the Reserve Bank and of economic sector managers such as yourself... we have to do this collectively," Subbarao said, addressing the annual general meeting of the Indian Merchants Chamber here this evening.  
The RBI decision on Monday to keep policy rates unchanged citing high inflation had invited criticism from various quarters as economic growth plunged to a nine-year low of 6.5 per cent in the last fiscal.
Irked by the policy decision, Commerce and Industry Minister Anand Sharma had said yesterday he would take up the matter with the Finance Minister and the RBI Governor.  "I don't think this blame-game can go on.
Blame-game is not good for you, not good for us, not good for the large majority of people. We've to look for shared solutions," Subbarao said, adding the "India growth story is still credible but not inevitable."
Subbarao took the criticism of the policy decision head-on and stated that the monetary tightening has helped achieve a moderation in inflation.
Beginning March, 2010 and through October, 2011, the RBI increased key policy rates 13 times or 350 basis points to batten down near double digits inflation.
Pointing out that inflation still hovers in the uncomfortable territory, Subbarao said moderation in core inflation is not percolating to retail inflation.  
On criticism over confusing signals from RBI, he said, "We have been saying all along that we look at all indices...  people did not listen to us. Yesterday, when we talked about all those indices, people said the RBI is confusing us."
Speaking about GDP growth, Subbarao said, "The potential growth rate of the economy has come down... (but) we see that there is inflation even as the economy is slowing below 7 per cent.
"It is not clear what the potential growth rate is, we have to estimate it more robustly," he added.  Subbarao also pointed out that global crises, especially to the euro-zone crisis, movement of oil and commodity prices along with domestic factors like policy reforms and progress of the monsoon would decide the growth-inflation outlook going forward.
On criticism that RBI stifled growth with its rate tightening strategy against inflation, Subbarao pointed out to the real weighted-average lending interest rates of banks were higher during the high growth period of 2003-08.  Stating that we cannot bring down inflation without sacrificing growth in the short-run, he said the RBI is looking making growth sustainable with low and stable inflation.
The Governor, however, rebutted concerns that in this period of gloom on the economic front and that the country is close to a 1991-like crisis situation.
He said a lot of factors like changes in the structure of the economy with resilient services sector playing a bigger role, stronger financial markets and regulation, free floating currency and over USD 280 billion in forex reserves which can last for eight months are the differentiating factors.
"We will not have a 1991-type of implosion," Subbarao, who was serving in the Finance Ministry during the dark period two decades ago, said.