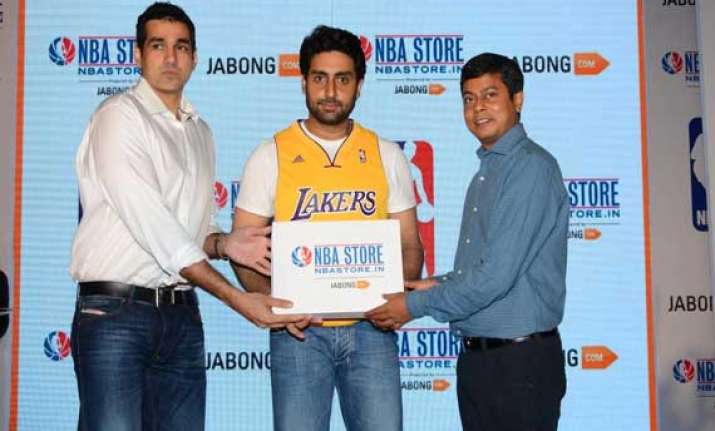 New Delhi: US-based National Basketball Association on Tuesday launched its first official online merchandise outlet for India, NBAStore.in, in Mumbai association with online shopping portal Jabong.
The launch was done in the presence of Bollywood actor and self-confessed NBA franchise LA Lakers fan
Abhishek Bachchan
.
Through the partnership, a wide assortment of NBA merchandise, including women's products, would be available in the country, it was announced at the media conference.
The collection of 200 NBA products would include shorts, jerseys and T-shirts for men and women priced between Rs. 1,400 and Rs. 14,000. The store can be found at nbastore.in (which redirects to jabong.com/nbastore/).
"I am a big fan of basketball and NBA. I attended my first NBA match at Los Angeles as a 6-year-old when my father (Bollywood superstar Amitabh Bachchan) was recuperating there after his accident in 1982-83 (during shooting of Hindi movie Coolie). I have played basketball in school and even captained my team and used to practice for 2-3 hours daily," said Bachchan at the launch function.
"I and other NBA fans can now have the whole range of merchandise delivered to our doorstep through Jabong, which was not possible earlier," he added.
NBA India MD Yannick Colaco told PTI that the league has become the second-best watched foreign sports league in the country after English Premier League and has a significant number of women followers.
"We have overtaken watchers for the Spanish (football) league, Bundesliga, and are second only to EPL. If EPL has 90 percent male viewership we have 30 percent," he said.