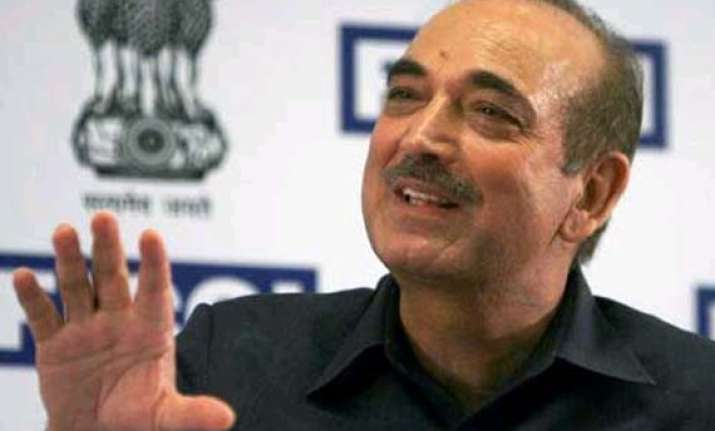 New Delhi: Contending that the rail budget offers nothing new, Opposition Congress today said it is just a copy of UPA's budget and looks like fresh only because of "packaging" in which "we are zero, you (NDA) are hero".
Participating in a debate on the rail budget in Rajya Sabha, Leader of the Opposition Ghulam Nabi Azad, without naming Prime Minister Narendra Modi, said "you have experience of running a state. But, running a Federal government is a difficult task."
"Whatever promises you have made, it is very difficult for you to fulfil," Azad said.
The former Union Minister said the UPA government had done so much work which the NDA dispensation would not be able to match even after 10 years, and it would take more than five years for them to inaugurate projects initiated earlier.
"The Railway budget presented by NDA is a copy of what the Congress-led UPA had presented in its budget in 2013 and interim budget in 2014. There is nothing new," he said.
"There is no match to your packaging. You can match any global top advertising agency. We are zero, you are hero in packaging," he said.
Azad said the government has made a lot of promises and shown lofty dreams to the people but the experience of running a state is far different from that of running a Federal government.
"The Prime Minister has said UPA has done nothing, but in the last few months has launched four big projects in the country which were initiated by our government. UPA has launched so many projects that it will take more than five years for NDA to inaugurate them," he said.
Derek O'Brien (TMC) asked "what is the major proposal that you (government) have proposed in this budget".
"Mamata Banerjee had proposed introduction of Duronto trains. The proposal of even bullet trains will take years to fructify," he said.
Claming that a sound foundation was laid by the UPA during the 11th Five Year Plan alone, Azad said 2207 kms of new rail line were laid, 2,758 kms converted into double lane and 4,556 kms electrified.
Also, 64,575 new wagons, 1258 diesel locomotives and 1,218 electric locomotives were added during the Plan, he said.
"We even exceeded the target in 2013-14 by laying 1,532 kms of new lines," he said.
The UPA government has the privilege of joining the select group of billion plus club in freight movement as the freight transportation crossed one billion tonne, he said.
Azad accused the NDA of presenting old wine in a new bottle saying in May 2013 former Prime Minister Manmohan Singh and Japanese Premier has inked a pact for joint feasibility of Bombay-Ahmedabad high speed train which was coined as "bullet train" by the NDA regime.
The work on high speed trains with a speed of 160-200 km per hour on Delhi-Agra, Delhi-Chandigarh routes etc was also initiated during the UPA regime, he said adding the 2013 budget also speaks clearly of the "public-private-partnership" in railways.
Charging NDA of taking advantage of all its programmes and showcasing them as its own, Azad said Interim Budget clearly mentioned "a proposal is under consideration to allow FDI in railways for world class international travel."
Azad said whether it be green initiative claims, cleanliness measures, IT initiatives, online booking for railway retiring rooms, dedicated freight corridors or workstation concept—all were introduced by the UPA government.
"It was Sonia Gandhi who as a matter of fact conceived bio-toilet concept in 2013 and there was a proposal to increase it to 2500 coaches," he said.
Azad said if the government was really interested in sector's reforms and progress, it could have initiated steps to augment freight transportation which could have garnered much revenue and reduced burden from highways therby minimising pollution and accidents.
He suggested the government could eye revenue through scrap disposal and use of railway land.