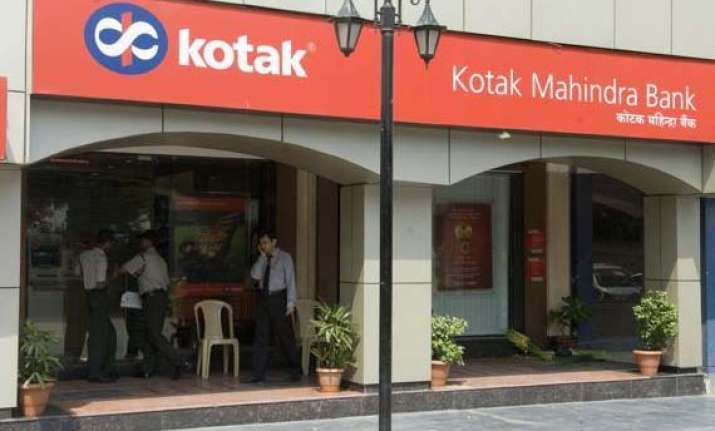 Mumbai, July 19: Private sector lender Kotak Mahindra Bank has reported a 43 per cent rise in its standalone net profit at Rs 403 crore in the first quarter of current financial year, on the back of a sound rise in core income and credit growth.
Net profit of the bank stood at Rs 282.45 crore in the same period last fiscal.
The bank's total income grew by 28.94 per cent to Rs 2,652.40 crore during this period.
"During the quarter, the bank had seen sound growth in credit and deposit. Our margins also remained steady," Group Chief Financial Officer Jaimin Bhatt said here.
While net interest income (NII) of the bank rose by 27 per cent to Rs 917 crore, net interest margin improved to 4.8 per cent in the January-March period from 4.7 per cent in the corresponding period of previous financial year.
On the impact of recent RBI measures to squeeze out liquidity in the system to stabilise rupee, Joint Managing Director of the bank Dipak Gupta said it would not impact the net interest margin (NIM) as the bank would pass it to the end consumers.
"We hope to maintain NIM at the current level going ahead," Gupta added.
The bank also said it is not facing any liquidity issues due to the RBI measures.
Its loan book grew by 19 per cent to Rs 50,539 crore
during the first quarter and deposits rose by 26 per cent to Rs 52,454 crore during this period.
"The loan growth for the bank may moderate to 15 per cent for the whole fiscal due to recent slowdown in the economy,"
Gupta said adding that the bank is consciously going slow in lending to commercial vehicle and construction equipment segments.
The bank's scrip gained 0.05 per cent to close at Rs 710.60 at the BSE, against the 0.90 per cent gain in the 30-share benchmark.
The bank had a current account - savings account (CASA) ratio of 29 per cent by the end of June quarter as against the 27 per cent year ago.
It witnessed a rise in gross NPA ratio to 1.95 per cent from 1.60 per cent reported a year earlier. Similarly, net NPA increased to 0.98 per cent from 0.80 per cent.
"There were slippages in couple of wholesale accounts due to which the NPA has risen," Gupta said, but added that total restructured book stood at Rs 6 crore by the end of first quarter.
Total provisions and contingencies shot up to Rs 169 crore as against the Rs 34.14 crore in the year ago period.
However, the overall treasury income, which rose to Rs 139 crore as against Rs 62 crore year ago, made up for the reverses on the provisions side.
The bank's capital adequacy ratio stood at 18.8 per cent as per Basel-III with a tier-I ratio of 17.5 per cent.
On consolidated basis, Kotak Mahindra Bank's net profit rose by 42 per cent to Rs 627 crore in Q1 of FY14 compared to Rs 443 crore reported in the corresponding period.
Among the subsidiaries, net profit from Kotak Mahindra Prime was Rs 117 crore and Kotak Mahindra Old Mutual Life Insurance contributed Rs 71 crore.