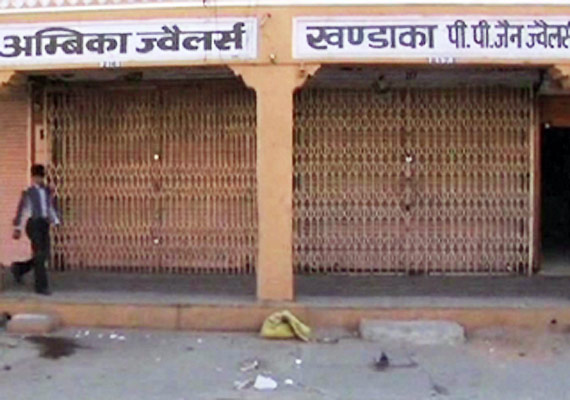 Mumbai, Mar 24: Even as jewellers continued with their country-wide strike for the eighth day demanding their exclusion from the proposed excise duty, a top Finance Ministry official today assured them of further talks to remove their "misunderstandings".
"They have to pay only 30 paise duty on a Rs 100 transaction...that's 0.3 per cent duty," Central Board of Excise and Customs (CBEC) Chairman S K Goel told PTI on the sidelines of a Ficci conference here.
The jewellers, who are protesting against budgetary provision to levy excise duty of one per cent on 30 per cent of the transaction value, staged a sit-in here as part of their strike which began a day after the Budget presentation.  
"We don't want to come under the excise net as it would be difficult for small jewellers to comply with the complexities of this duty...this will be a throwback to inspector raj," Mumbai Wholesale Gold Jewellers Association President Vinod Jain said.
However, Goel said levying of the duty, to be implemented from the next fiscal, will not be a big issue for the jewellers, especially on the book-keeping front.  
"They are already paying VAT, so they will not have to maintain any new records. We are talking with them to clear their misunderstandings," he said.
The jewellers, however, said they will continue with their stir at least till Monday while further course of action will depend on the outcome of a meeting they have scheduled with the Finance Secretary on the same day.  
"The Government has assured us of no harassment, but it is all verbal. It should take a firm stand," Jain added.  
The association is also demanding a rollback of increase in customs duty on gold imports to 4 per cent from the earlier 2 per cent.
Meanwhile, jewellers gathered at the Azad Maidan in South Mumbai and staged a demonstration to protest against the budgetary proposals aimed at increasing revenues for the exchequer.
Interestingly, the jewellers opted not to open their outlets on the auspicious occasion of Gudi Padwa (Marathi New Year) yesterday. Gudi Padwa is considered an auspicious occasion for buying ornaments.
According to estimates presented by the association, the industry lost out on revenues of Rs 750 crore on Gudi Padwa day alone. It has so far lost Rs 8,000 crore in unrealised sales due to the strike that began last Saturday.