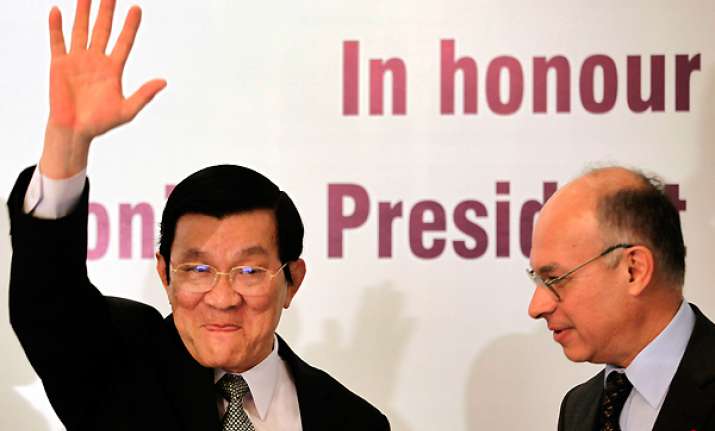 Mumbai, Oct 13: The trade between India and Vietnam is expected to nearly double at over USD 7 billion by 2015, according to the Vietnamese president.

"Vietnam today provides huge business opportunities and bilateral trade is expected to cross USD 7 billion by 2015 from the present USD 4 billion," visiting President Truong Tan Sang said here today, while addressing Indo-Vietnam Business Forum meeting organised by Confederation of Indian Industry.

The present bilateral trade is ten times what it was in 2000. Vietnam's exports to India crossed USD 1 billion in 2010-11, a jump of 92 percent over the previous year, while India's exports to Vietnam also jumped to USD 2.6 billion during the same period.

Truong invited Indian businesses, and technical expertise in sectors like health-care, oil & gas, manufacturing, agro-industry, pharma, automotive, IT, shipping & ports, electrical consumer appliances, education, and road infrastructure, among others.

"Demand for material and machinery is very high with a huge export potential for India. Indian businesses need to learn more about the situation in Vietnam so that they can profit from it," the president said.

From 2010, Vietnam has implemented a 10-year modernisation policy which has created need for products and services worth hundreds of millions of dollars.

"India, with a long-standing expertise in almost every one of those fields, can take advantage of the same," he said.

The president stressed the need for information exchange between the two countries. He explained that Vietnam has expertise in sectors which India can also take advantage of, such as poverty alleviation.

Truong also said his government's serious efforts at development has led to business-friendly policies like reduction of corporate tax, greater freedom to private enterprise, emphasis on exports, production of consumer goods and encouragement to foreign investments.

Calling on India Inc to avail of the preferential policies of his government for promoting investment, he said that though India is one of the top 10 business partners of Vietnam, bilateral business is much below potential.

"The need is thus for a strategic partnership and economic relations will receive the highest attention from us," Vietnamese Deputy Prime Minister Nguyen Xuan Phuc said.

Nguyen envisaged bilateral cooperation in "high-tech training, infrastructure development including roads and urban transportation, electricity, waste treatment and development of a national telecom system.

Nguyen also noted that agreement between Jet Airways and Vietnam Airlines to start direct flights between the two markets will help build more business cooperation.