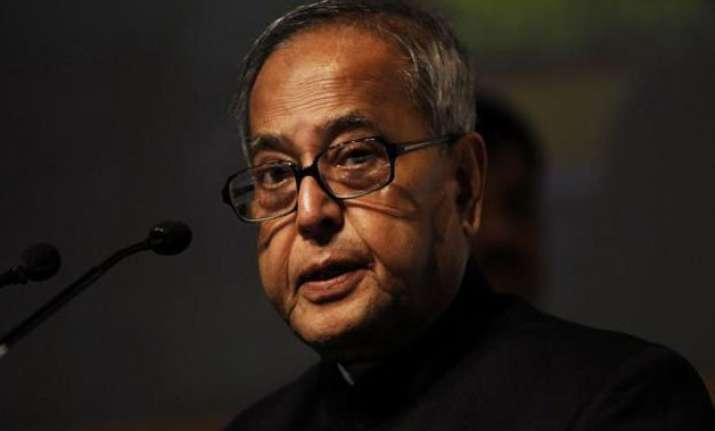 New Delhi: President Pranab Mukherjee today said India has emerged as the fastest growing large economy with an estimated 7.4 per cent growth rate in 2014-15 and the government is taking "decisive measures" to ensure a better future for the people.
"A promising future awaits us," he said while listing out the initiatives taken by the government in his address to the joint sitting of Parliament.
The government, Mukherjee said, has taken several measures to improve ease of doing business, ending financial untouchability and containing inflation with a view to stimulate the economy.
The President also said the government is determined to take all possible measures to stop generation of black money, both domestically and internationally. These will include putting in place robust legislative and administrative frameworks.
Mukherjee said, "As a result of Government's sustained efforts and series of policy initiatives, our economy is again on the high growth trajectory... Our GDP is growing at 7.4 per cent, which makes India the fastest growing large economy in the world."
He said the decisive measures taken by the government have helped lower the inflation to "record low" and also boosted capital markets.
"Our external sector is now far more resilient, particularly with a moderate current account deficit and a broadly stable rupee. Our foreign exchange reserves have been substantially augmented," Mukherjee said.
The government, in last nine months, has intensified efforts to bring greater efficiency and equity into the tax system, and also placed prudence in expenditure management high on its agenda.
Recalling some of the major initiatives taken by the government to improve ease of doing business, Mukherjee said the government has streamlined various entry and exit regulations and introduced the process of filing online applications for various corporate activities.
Referring to the principle of 'Maximum Governance, Minimum Government', the President said the government will focus on simplification of official procedures and reduce the decision-making levels by leveraging technology.
"The system of Group of Ministers has been dispensed with and emphasis is on swift decision-making," Mukherjee said.
While introducing "stricter and sterner measures to deal with corruption", Mukherjee said, efforts would be made to protect civil servants taking bonafide decisions in public interest.
In order to promote 'Make In India' programme, he said the government has relaxed FDI regulations and would continue to deal with the problem of inverted duty structure to make Indian industries competitive.
Mukherjee said the Centre will expedite implementation of the recommendations of the Financial Sector Legislative Reforms Commission (FSLRC), and Sebi's new Foreign Portfolio Investment norms have established a unified, simple regulatory framework.
The Insurance Laws (Amendment) Ordinance, 2014, was promulgated enhancing the foreign equity cap from 26 per cent to 49 per cent while safeguarding Indian ownership and control.
"This will enhance capital availability and ensure better access to insurance services, especially in rural areas and for economically weaker sections," Mukherjee said.
Referring to the Constitutional (Amendment) Bill on Goods and Services Tax, he said it will simplify the indirect tax regime, broaden the tax base and result in better compliance.