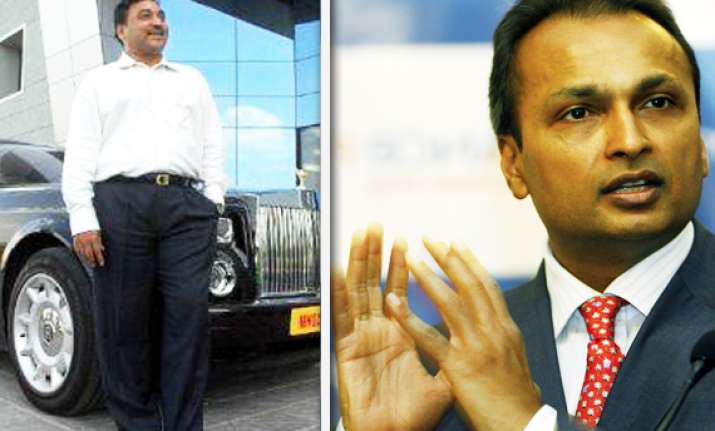 New Delhi, Oct 27: India's richest are losing wealth due to inflation and corruption scandals, according to Forbes magazine, which says that the combined wealth of the country's 100 wealthiest is down 20 per cent from a year ago. 

According to Forbes' annual India Rich List, the total wealth of the country's 100 richest has fallen to USD 241 billion, down by 20 per cent or an estimated USD 60 billion. 

The number of billionaires has also fallen by a dozen to 57 currently, Forbes said, while adding that falling stock and currency prices also led to diminishing of their wealth. 

Mukesh Ambani, head of Reliance Industries Group, has retained his position as the richest Indian with a networth of USD 22.6 billion, though his wealth declined by USD 4.4 billion in past one year.

Forbes said that Mukesh's younger brother Anil Ambani saw the biggest erosion in his wealth in absolute terms, making him the biggest dollar loser.

Anil Ambani's net worth declined by USD 7.4 billion to USD 5.9 billion and he "slipped out of the top 10 for the first time since his 2004 debut". He is ranked 13th in this year's list.

Power producer Lanco Infratech's Madhusudan Raw was the biggest loser in percentage terms as his networth fell by 78 per cent during the past one year.

Mukesh Ambani is followed by steel tycoon Lakshmi Mittal and technology czar Azim Premji at second and third slots with networth of USD 19.2 billion and USD 13 billion, respectively. 

In the top-five, Mukesh Ambani, Lakshmi Mittal and Azim Premji are followed by Essar group's Shashi and Ravi Ruia (USD 10.2 billion at 4th position) and OP Jindal group's Savitri Jindal (USD 9.5 billion at 5th).

Others in the top 10 include Sunil Mittal (USD 8.8 billion at 6th position), Gautam Adani (USD 8.2 billion, 7th), Kumar Mangalam Birla (USD 7.7 billion, 8th), Pallonji Mistry (USD 7.6 billion, 9th) and Adi Godrej (USD 6.8 billion, 10th). 

This year's list included 14 new faces, including Ajay Kalsi, founder and CEO of the London-listed oil and gas firm Indus Gas, father-son duo Kapil and Rahul Bhatia of IndiGo airlines, and V G Siddhartha, founder of coffee shop retail chain Cafe Coffee Day.

Naazneen Karmali, India Editor of Forbes Asia, said: "This has been a turbulent year for India's richest. Despite the economy growing at close to 8 per cent, a spate of corruption scandals and rising inflation have taken a toll."

Forbes India Editor Indrajit Gupta said: "Even though it's been another tough year for the wealthiest Indian entrepreneurs on the 2011 India Rich List, the fact that there are as many as 14 new entrants is a clear pointer to the exciting and diverse business opportunities in this part of the world."

The magazine said that the networth of persons on the list are based on share prices and exchange rates as on October 12 and privately held companies were valued on the basis of their comparison with similar publicly traded firms.  The networth figures of individuals also include family fortunes, it added.

Forbes said that 15 people dropped out of the top 100 list, including Vinod Goenka and Shahid Balwa, now in jail for their alleged involvement in a telecom corruption scandal. Both of them deny any wrongdoing, the magazine noted. 

Only 19 of people on the list saw their networth rise during the past year, including Sun Pharmaceutical Industries' Dilip Shanghvi and Hero Group' B M Munjal.