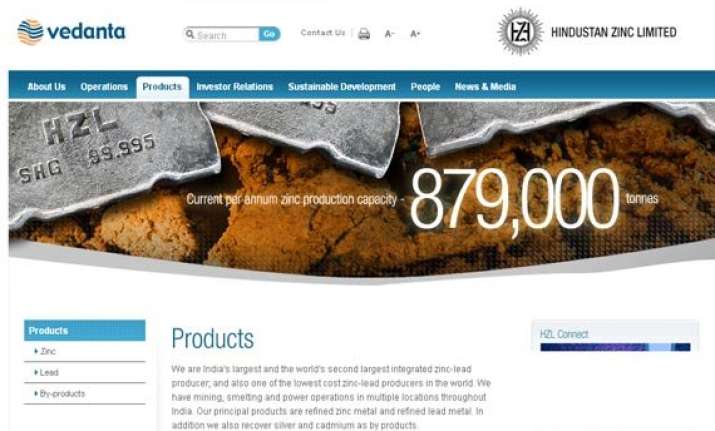 New Delhi: Hindustan Zinc today reported a 33 per cent rise in profit after tax (PAT) to Rs. 2,184 crore on higher metal prices and sales.
The company, in which Vedanta Resources has the majority stake, had clocked Rs. 1,640 crore PAT during July-September quarter last fiscal, it said in a statement.
The Government has 29.54 per cent stake in HZL which produces zinc, lead and silver.
"EBITDA was up by five per cent to Rs. 2,000 crore in Q2 FY'15 as compared to previous year, primarily due to higher LME prices despite lower volumes and the recent increase in royalty rates," it said.
"The impact of EBITDA was further accentuated by strong treasury income during the period. In H1 FY'15, net profit was up by 15 per cent to Rs. 3,801 crore," HZL said.
Net sales of the company rose by six per cent during the second quarter of the current fiscal to Rs. 3,749 crore from Rs. 3,521 crore a year ago.
Metal production during the quarter was, however, down by four per cent at 2,12,575 tonnes. For the six-month period, mined metal production fell to 375,706 tonnes from 4,59,471 tonnes in the year-ago period.
"This is in line with our mine plan at Rampur Agucha of lower mined metal production in the first half of the year as we excavated more waste than ore and exposed the ore body by September; this will contribute higher volumes in the second half of the year," it said.
Stating that all expansion plans are on track, HZL said it has Rs. 27,475 crore worth of cash and cash equivalents as on September 30, 2014. The company has invested Rs. 25,241 crore in mutual funds and Rs. 2,214 crore in bonds out of the total kitty.