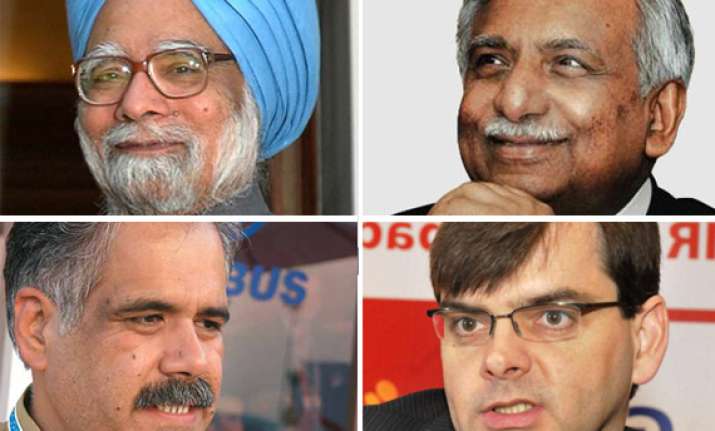 New Delhi, Nov 26: Chiefs of beleaguered Indian private airlines today met Prime Minister Manmohan Singh seeking his intervention to help the carriers tide over the deep financial crisis and were assured that "legitimate" grievances would be considered.

There was no specific assurance from the Prime Minister at the hour-long meeting but he is understood to have said that the government would be ready to help the cash-strapped carriers address their "legitimate grievances". 

Sources said the top bosses of all private carriers suggested measures like rationalising taxes and duties on jet fuel prices and other items and reduction in airport charges. 

They also raised issues like allowing the airlines to utilise the bilateral air traffic rights on international routes which remained unused by the carriers to whom they were alloted.

The airline chiefs wanted steps to expedite the ground handling policy, which is currently before the courts.  Civil Aviation Minister Vayalar Ravi was not present at the meeting and neither was Kingfisher Airlines promoter Vijay Mallya.

Those present included Jet Airways chairman Naresh Goyal, Indigo promoter Rahul Bhatia, its CEO Aditya Ghosh, SpiceJet CEO Neil Mills, Kingfisher CEO Sanjay Aggarwal and Go Air owner Jeh Wadia.

A representative from GMR, which runs airports in Delhi and Hyderabad, was also present.  Crucial issues like change in the aviation policy to allow foreign airlines to pick up stake in Indian carriers and 'predatory pricing' of airfares were not raised at the meeting by the airline representatives, sources said.

A note circulated by the Department of Industrial Policy and Promotion (DIPP) recently said that private airlines in the country are in dire need of funds for their operations and service upgradation to compete with other global carriers.

"We will await instructions from the Prime Minister's Office. The Civil Aviation Ministry will take forward a formal proposal for consideration and decision," A senior Ministry official said about the note.

The Prime Minister had recently said that private sector airlines should be managed efficiently. "But if they do get into difficulties, we have to find ways and means to help them get out of the process," he had said.

All Indian airlines have been suffering from a high rate of debt and losses, despite the high passenger and cargo growth rate witnessed by the Indian aviation sector. 

The Federation of Indian Airlines (FIA), a representative body of Indian carriers, recently warned that "a bad operating climate" in the country might compel some domestic carriers to default in servicing their debt, bringing to them to the brink of closure.

The FIA had estimated that domestic private carriers were together likely to report a loss of Rs 3,500 crore in the first six months of this financial year.

"Despite impressive traffic growth, a number of carriers have continued to suffer big losses, which in turn have contributed to delayed payment to banks, fuel companies and service providers," the note said.

On rationalisation of taxes and duties on fuel and other items, the airline chiefs are understood to have pointed out that the jet fuel price for domestic consumption was 50 per cent higher than the global prices due to taxes. 

Seeking a review of the policy of allotting bilateral air traffic rights to Indian carriers vis-a-vis foreign carriers, the airline chiefs said there were anomalies relating to the number of destinations India allows foreign carriers to fly and the reciprocal rights granted to Indian carriers by the governments in those countries, which needed to be corrected. 

They also wanted an early resolution of problems relating to the ground handling policy, which is at present in the courts, they said, adding that high airport charges were also affecting the airlines' financial bottom line.