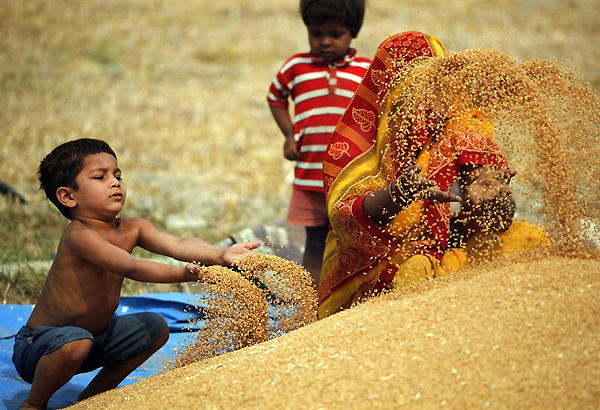 New Delhi, Feb 15: Exceeding target, the country is set to harvest a record 250 million tonnes of foodgrains this year, as efforts to push farm growth seem to be paying off, Prime Minister Manmohan Singh said today.

"Our farmers have done us proud again this year. ... but we still have a long way to go. ... we cannot afford to be complacent since demand of horticulture and animal products is increasing very rapidly and this will require some shift of area away from production of foodgrains.

"Therefore productivity in foodgrains has to go up handsomely," he said at a workshop at the Rashtrapati Bhawan.

The workshop is the part of the initiative of President Pratibha Patil for enhancing farm productivity, especially in rainfed areas.

A Committee of Governors constituted by the President has already met twice.

Besides Patil, today's meeting was attended by over 20 governors, eight union ministers, five chief ministers and 37 vice chancellors of agricultural universities.

The Prime Minister said foodgrains production will exceed the target by five million tonnes and cotton output at 34 million bales is a new record as per the latest estimates.

However, there was only one per cent growth rate in food production in the country, against two per cent required to meet India's grain requirement by 2020-21, he said.

The Prime Minister also pointed out distortions arising from pricing and subsidy regimes resulting into soil degradation.

He expressed concern over volatility in prices of farm products.

"There is a big gap between farm gate and retail prices that the consumers pay. There is also volatility with prices being low after harvest. We need to address all this by reforming agricultural marketing systems and investing in supply chains," he said.