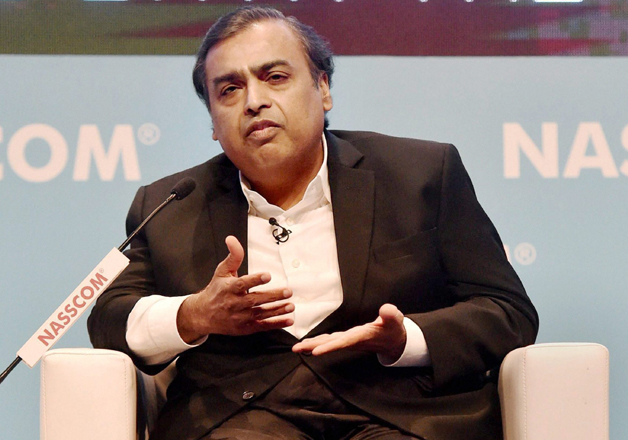 Reliance Industries chairman Mukesh Ambani has said that his newly-launched telecom venture Jio has crossed a customer base of 100 million (10 crore).
"When we started Jio we set a target of 100 million customers in shortest time. Even we didn't imagine we will do it in months. Aadhaar enabled us to acquire a million customers a day, which is unheard of in the industry," Ambani said here on Wednesday.
"Jio was conceived at a time when the world was fast digitising. What the Jio platform offers is partner with the next generation to solve problems for India to make sure our industries are more productive," he added said.
"To my mind, data is the new natural resource. In that sense, India is blessed with 1.3 billion (130 crore) people, for it to have real value it has to be processed into intelligence. Data is the new oil and its benefit is immense to society. India with its young population will have a competitive advantage," he further said.
The landmark 10 crore subscriber base makes the Jio youngest telecom player to achieve this milestone. Jio was officially launched in September last year.
With this feat, Jio has also become the second telecom player in terms of users, capturing more than 23 per cent of the Indian market. 
"Investigating the last six months of usage, we can see that Jio has grown aggressively at the end of 2016 summer. Jio racked up millions of customers in their first few months and picked up the pace of acquisition towards the end of the year," mobile communication app Truecaller's 'TrueInsights Q4 Report' said.
The growth is owing to the Jio welcome offer of providing unlimited data to its subscribers till March 31 this year.
As per the latest data from TRAI, India's telecom subscriber base grew to over 1.12 billion (112 crore) at end-November 2016 and the large number of additions were credited to Reliance Jio Infocomm Ltd.
Reliance Jio has become the primary data connection on most of the mobile devices in India, with 42 per cent users having activated Jio in their 4G-enabled slot, followed by Airtel at 17.54 per cent, Vodafone at 12.26 per cent and Idea at 11.50 per cent.
Jio is also leading in data consumption, with a Jio-user logging 6.54GB on average compared to 1.28GB on Airtel, 1.29GB on Vodafone and 1.32GB on Idea.