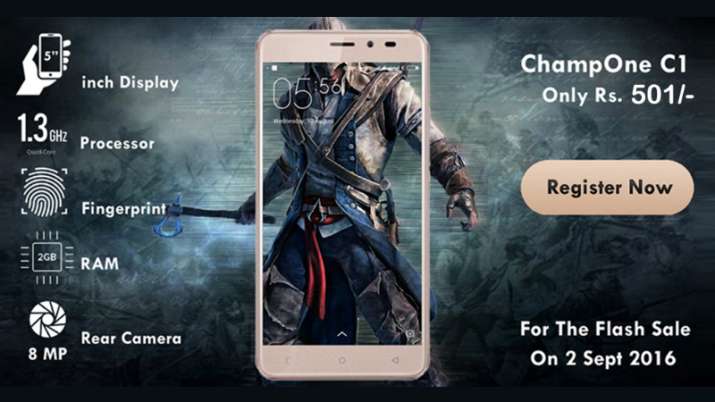 ChampOne 1C is another smartphone grabbing headlines for its unbelievably cheap price. Unheard before, the company plans to sell its product at Rs 501 even as it claims that the phone actually costs Rs 7,999. The company plans to launch a watch and tablet soon as well.
The company has listed the Rs. 501 smartphone with registrations for the first flash scheduled for September 2 now open.
It is also beyond comprehension how a smartphone can be sold at Rs 501 when the minimum cost to to make one is Rs 2400.
After the listing went viral on Monday, the company updated its website to say "only existing customers are eligible for flash sale" - what that means for a company with no other products is anybody's guess.
With ChampOne 1C, the specifications are what sound incredible if you consider the Rs 501 price tag: 2GB RAM, Android Lollipop 5.1, 16GB storage, 5-inch display HD display, 1.3GHz processor, and 8MP rear camera.
But apparently, users are unable to register to buy the phone due to some 'technical' issue. ChampOne's 'About Us' page doesn't tell you much about the company and the website is full of grammatical errors.

However, it says that the smartphone will be sold through the 'Cash On Delivery Option' so we don't see why they even need a payment gateway.
Though the Jodhpur-based company has listed a toll free number, and two other phone support numbers, neither yield any response.
ChampOne appears to be one of the numerous startups that have recently started sprouting up in India.
The first amongst the spate of firms was Ringing Bells with its Freedom 251, and while the company is finally delivering its first smartphones, other firms appear to have fizzled out before launch.
Freedom 251 was priced at Rs 251, and at $4 was the world's cheapest smartphone. Specifications offered included: 4-inch qHD IPS display, 1.3 GHz quad-core processor, 1GB RAM and 8GB ROM (expandable up to 32GB via microSD card). Freedom 251 sports a 3.2MP primary camera, 0.3MP front camera and runs Android 5.1 Lollipop.
Ringing Bells apparently got 7.5 crore registrations for the phone, but has openly admitted it can't fulfil this entire order.