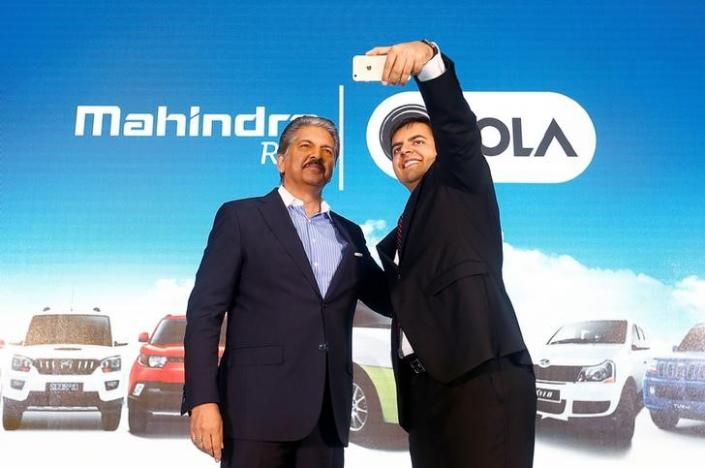 Indian auto maker Mahindra & Mahindra Ltd today entered into an agreement with app-based cab aggregator Ola. The strategic partnership is expected to rake in $400 million (Rs. 2,655 crore) in revenue over the next two years via car and service sales.
The new tie up aims to focus in expanding the fleet faster to take on global rivals which also includes Uber which is aggressively focusing on the Indian car on demand market after it exited the China market.
Under the new scheme, Ola drivers will be eligible for Mahindra financing, where they would get up to 100 per cent financing on new, as well as pre-owned vehicles. The services of Mahindra's insurance arm would also be offered to drivers who, under the scheme, would pay lower premiums.
Ola drivers would also fall under M&M's CSR scheme. The drivers would get accident insurance worth Rs 15 lakh, their children would get scholarships up to class X and XII and the drivers would get discounts on spares.
The alliance will train 40,000 drivers and provide cars at cheaper prices and offer attractive financing.
The Chairman of Mahindra Group, Anand Mahindra said, "Future of mobility will be dramatically influenced by the share economy, which will move faster in India compared to the rest of the world."
Gracefully concede that you're way ahead of me in 'selfie-skills' Our alliance should help me in that department! https://t.co/Bo8cs5EgQ2

— anand mahindra (@anandmahindra) September 8, 2016
Anand tweeted a picture with Ola co-founder and said, "Gracefully concede that you're way ahead of me in 'selfie-skills' our alliance should help me in that department!"
Mahindra said that this alliance with Ola will provide both access to new business opportunities.
"There needs to be a more mass good quality way of commuting and that is what we have built. This alliance will scale up the supply significantly because of the value proposition for the drivers," Ola co-founder and chief executive Bhavish Aggarwal told Reuters in the same interview.
Mahindra also noted the new launch of Reliance Jio the smartphone diffusion will improve significantly and will help in ride sharing platforms like Ola.
"I have recognised a new reality and Mahindra is poised to play a significant role in the new world. We have two categories of people – those who buy vehicles for objects of desire, while others who focus on shared economy. And we will be a part of both. Being one of the largest automobile groups in the world, we are providing Bhavish and his team an offer they cannot refuse, " said Anand.
Speaking at a press conference in Mumbai, Anand said, "I woke up this morning to walk my talk and be a part of the startup world. When I referred to the changing dynamics of the automobile industry at my annual general meeting, I realised that the shift was moving towards sharing economy. I think the economy is going to move faster in India than anywhere in the world."