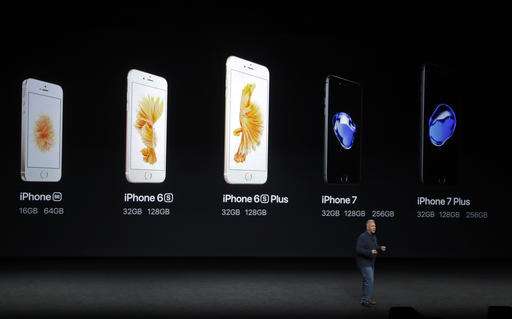 Apple unveiled iPhone 7 and iPhone 7 Plus smartphones at its annual launch event Wednesday . The company left short of making any major overhaul even as it introduced unique innovations that is likely to improve iPhone is used every day.
Apple's CEO Tim Cook launched next-generation iPhones –iPhone 7 and iPhone 7 Plus – at the Bill Graham Civic Auditorium, San Francisco.  
While the two variants will be available in more than 25 countries beginning Friday, September 16, the new iPhone models will hit Indian stores in October 7, in silver, gold, rose gold and the new black finish in 32GB, 128GB and 256GB models starting at Rs 60,000. 
The rumours have turned out to be true, the company is ditching the headphone socket, meaning users will either have to use wireless Bluetooth headphones called AirPods to listen to music, or buy a pair of wired headphones that plug into the Lightning port - currently used for charging.
The new iPhone features new advanced camera systems that take pictures like never before, more power and performance with the best battery life ever in an iPhone, immersive stereo speakers, wide color system from camera to display, two new beautiful finishes, and is the first water and dust resistant iPhone.
The iPhone 7 will have stereo speakers for the first time, with twice the volume of iPhone 6s speakers. The phone's battery life is improved, too; Apple estimates that the iPhone 7 Plus will have an additional hour of battery life compared to the iPhone 6s.
Here are the 12 major announcements made at Apple's launch event: 
1. New Advanced Camera Systems
iPhone 7 and iPhone 7 Plus take the world's most popular camera and make it even better with entirely new camera systems. The 12-megapixel camera includes optical image stabilization on both iPhone 7 and iPhone 7 Plus, and a larger ƒ/1.8 aperture and 6-element lens enable brighter, more detailed photos and videos, and a wide color capture allows for more vibrant colors with more detail. iPhone 7 Plus features the same 12-megapixel wide angle camera as iPhone 7 and adds a 12-megapixel telephoto camera that together offer optical zoom at two times and up to 10 times digital zoom for photos.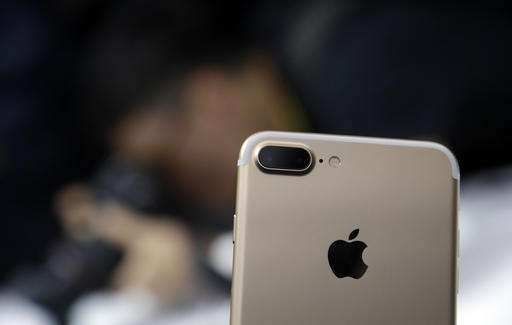 Coming later this year, the dual 12-megapixel cameras also enable a new depth-of-field effect, using both cameras on iPhone 7 Plus to capture images, while sophisticated technology including Machine Learning separates the background from the foreground to achieve amazing portraits once possible only with DSLR cameras.
Additional Camera Advancements Include:
• New Apple-designed Image Signal Processor, which processes over 100 billion operations on a single photo in as little as 25 milliseconds, resulting in incredible photos and videos;
• New 7-megapixel FaceTime HD camera with wide color capture, advanced pixel technology and auto image stabilization for even better selfies; and
• New Quad-LED True Tone flash that is 50 percent brighter than iPhone 6s including an innovative sensor that detects the flickering in lights and compensates for it in videos and photos.
2. More Performance & Battery Life
The new custom-designed Apple A10 Fusion chip features a new architecture that powers these innovations, making it the most powerful chip ever in a smartphone, while also getting more time between charges with the longest battery life ever in an iPhone. The A10 Fusion's CPU now has four cores, seamlessly integrating two high-performance cores that run up to two times faster than iPhone 6, and two high-efficiency cores that are capable of running at just one-fifth the power of the high-performance cores. Graphics performance is also more powerful, running up to three times faster than iPhone 6 at as little as half the power, enabling a new level of gaming and professional apps.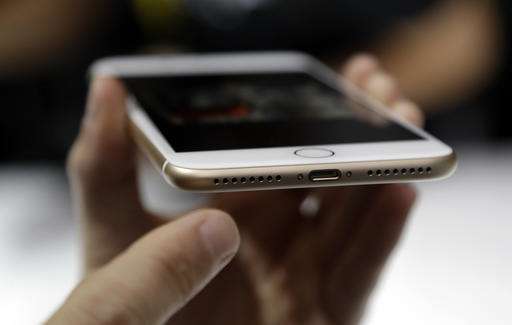 Both phones include support for up to 25 LTE bands, for the best worldwide roaming in the industry, and LTE Advanced for three times faster data rates than iPhone 6 at up to 450 Mbps. 1 For customers in Japan, iPhone will now support the leading FeliCa contactless technology, bringing the ability to use credit and prepaid cards, including on iD and QuicPay domestic networks, and Suica, Japan's dominant transit card issued by JR East, the world's largest transit operator.
3. An Amazing Audio Experience
New stereo speakers offer amazing and immersive sound that is two times louder than iPhone 6s, offering increased dynamic range of sound and a higher quality speakerphone. The new iPhone comes with EarPods with Lightning connector to deliver incredible sound, as well as a 3.5 mm headphone jack adapter that allows customers to use old headphones and accessories.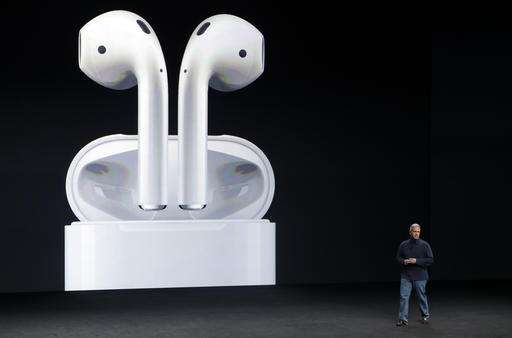 New AirPods, Apple's innovative new wireless headphones, weave simplicity and technology together to reinvent the wireless experience making headphones easy to use. Featuring the new Apple W1 chip, AirPods have extremely efficient wireless communication for a better connection, improved sound and industry-leading battery life. AirPods harness the power of Siri, allowing you to access your favorite personal assistant with just a double tap.
4. Design That Makes a Splash
The iPhone 7 and iPhone 7 Plus come in a gorgeous design in silver, gold and rose gold finishes and introduce two all-new black finishes, a beautiful black finish that has an anodized matte appearance, and an innovative jet black finish that has a deep, high-gloss look. The new jet black finish is accomplished through an innovative nine-step process of anodization and polish for a uniform, glossy finish. An entirely reengineered enclosure results in a water resistant iPhone offering protection like never before against spills, splashes and dust. 
The new iPhone features the brightest, most colorful Retina HD display ever in an iPhone, now with a wide color gamut for cinema-standard colors, greater color saturation and the best color management in the smartphone industry. An all-new, advanced, solid-state Home button on iPhone 7 is designed to be durable and responsive, and working in tandem with the new Taptic Engine®, provides more precise and customizable tactile feedback.
5. Featuring iOS 10, the Biggest iOS Release Ever
iPhone 7 and iPhone 7 Plus come with iOS 10, the biggest release ever of the world's most advanced mobile operating system. iOS 10 introduces a huge update to Messages that delivers more expressive and animated ways to message friends and family, the ability for Siri to do more by working with apps, new ways to interact with apps and even more places to use 3D Touch, beautifully redesigned Maps, Photos, Apple Music and News apps, and the Home app, delivering a simple and secure way to manage home automation products in one place. iOS 10 also opens up incredible opportunities for developers with Siri, Maps, Phone and Messages APIs, allowing customers to do more than ever with the apps they love to use.
6. Pricing and storage
The iPhone 7 will start at $650 (Rs 43,000) in the United States, the same as the iPhone 6s it replaces. The larger iPhone 7 Plus model is increasing to $770 (Rs 51,000), instead of $750 (Rs 49,800). They come in Silver, Gold, Rose Gold, Black and the new Jet Black finish. Storage has been doubled, so Apple joins rival phone makers in making the starter model 32 gigabytes, rather than 16 gigabytes before. Apple is doubling storage in higher-priced models, too - to 128 and 256 gigabytes.
The new phones will ship September 16 (arrive in India on October 7), with orders to start this Friday. Older iPhones will get price reductions, and last year's models are also getting double the storage.
7. Apple AirPods
As expected, iPhone is removing the standard analogue headphone jack and forcing headphones to use its "Lightning" connector, which plugs into the phone's charging port. The iPhone 7 will come with an adapter so older earphones can still be used.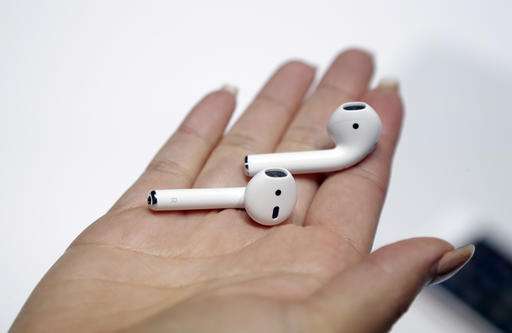 But Apple is pushing Apple AirPods, which CEO Tim Cook says are a "breakthrough design," wireless headphones that sync across all Apple devices and respond to touch that can access Siri. The AirPods are shipping in late October and cost $160 (Rs. 15,400 in India).
8. Apple Watch Series 2
Apple introduced a "swim-proof" watch, the Apple Watch Series 2. The new watch has built-in GPS, a brighter display and faster processor than the previous Apple Watch. There's also new ceramic watch-face. The price starts at $370 (Rs. 32,900 in India). The original model will get a faster processor price cut to $270, down from $300. The updates are coming September 16 (on October 7 in India).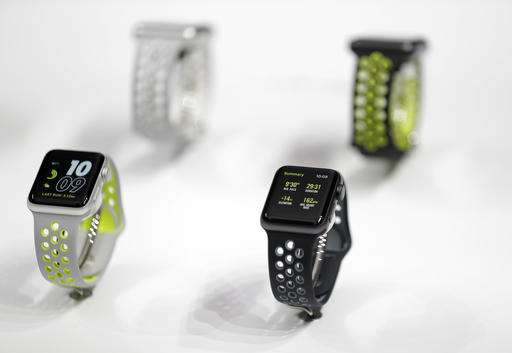 Existing watches can get new operating software on September 13. In addition, there's a new Apple Watch Nike +, a Nike-branded Apple Watch in four colours that's designed for runners. It is also priced at $369 and is available late October. Battery life, which has been a weak spot of the watch, was not mentioned.
9. Pokemon GO
A Pokemon Go app is coming to Apple Watch. The app lets you collect items from Pokestops, hatch eggs and alert you to nearby Pokemon (you still need your phone to catch actual Pokemon). It will be shipping before the end of the year.
10. New Mario Game
Nintendo debuted a new Super Mario game for iOS called Super Mario Run. It's the first iOS game featuring Nintendo's Mario characters. Nintendo has long resisted bringing Mario to mobile phones, relying on it instead to sell its hand-held DS gaming systems. The new game, which can be played one handed, will be released in time for the holidays. The game will have a fixed price which is being kept under wraps for now. The news sent Nintendo shares soaring on Wednesday.
11. Apple Pay
Apple Pay will come to Japan in October with a new wireless technology called Felica to be included in iPhones and Apple Watches there. Apple Pay will also come to New Zealand in October and Russia in the fall.
In the U.S. and elsewhere, mobile payments use a wireless technology called NFC. A transit feature in Apple Maps will also launch in Japan.
12. iWork in real time
Apple iWork suite of software, including word processing, processing, spreadsheet and presentation programs, will include real-time collaboration features for the first time. It's something Google and Microsoft already offer in some form. Although Apple's iWork package allows syncing through iCloud, it's has been primarily for one person to work on documents at a time. The software is available for iPhones, iPads and Mac computers, with a web version for Windows users.
(With AP inputs)