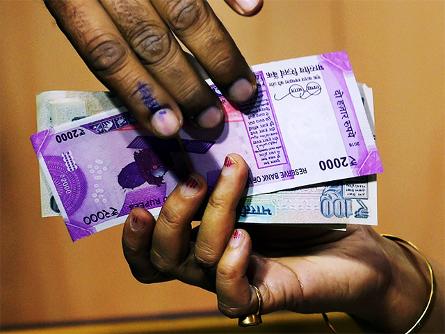 The government's move to demonetize high-value currency is probably going to affect India's growth in the short term as well as the informal sector like retail trade, hotels, restaurants and transportation, and the unorganised sector, RBI said today.
The scrapping of old Rs 500 and 1,000 notes "could result in a possible temporary reduction in inflation of the order of 10-15 basis points in Q3 (October-December period", the central bank said in the Fifth Bi-monthly Monetary Policy Statement Resolution of the Monetary Policy Committee (MPC), its first since the note ban decision.
RBI, however, kept retail inflation target of 5 per cent for the fourth quarter of the fiscal and the medium-term target of 4 per cent within a band of +/- 2 per cent while supporting growth.
MPC, RBI said, felt that the assessment is clouded by the still unfolding effects of the withdrawal of specified bank notes (SBNs).
"The outlook for GVA (gross value added) growth for 2016-17 has turned uncertain after the unexpected loss of momentum by 50 basis points in Q2 and the effects of the withdrawal of SBNs (Rs 500/1,000 notes) which are still playing out," the policy document said.
Downside risks in the near term could travel through two major channels.
One is "short-run disruptions in economic activity in cash-intensive sectors such as retail trade, hotels and restaurants and transportation, and in the unorganized sector".
The second channel is aggregate demand compression associated with adverse wealth effects.
"The impact of the first channel should, however, ebb with the progressive increase in the circulation of new currency notes and greater usage of non-cash based payment instruments in the economy while the impact of the second channel is likely to be limited," RBI said.
(With inputs from PTI)