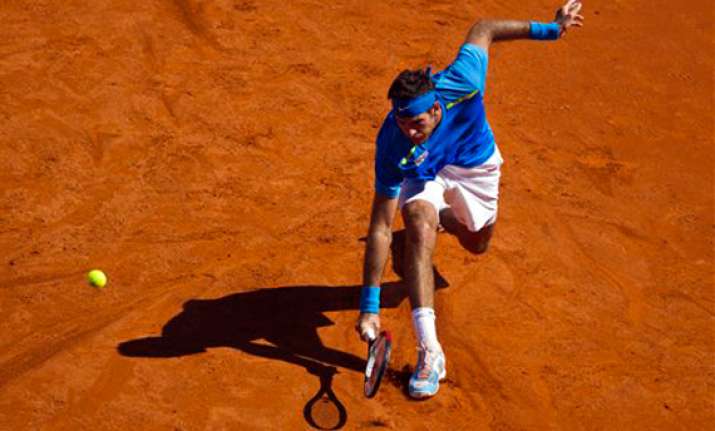 Buenos Aires, Apr 9: Juan Martin del Potro put Argentina into its third straight Davis Cup semifinal with a three-set victory over Croatia's Marin Cilic on Sunday.
Del Potro won 6-1, 6-2, 6-1, to give Argentina an insurmountable 3-1 lead. Juan Monaco defeated Antonio Veic 6-1, 6-1 to wrap up the 4-1 victory.
Argentina will face the Czech Republic in Buenos Aires in the semifinal on Sept. 14-16. Argentina lost last year's final against Spain in Seville and has been in the Davis Cup final four times without winning.
Del Potro put the match away with his seventh ace, then reached skyward with both arms to celebrate as the 14,000 sellout responded with cheers of "ole, ole, ole."
"This is a beautiful moment," said Del Potro, who vomited before Friday's singles' victory over Ivo Karlovic and went to bed early on Saturday, still battling a touch of the flu.
"It was difficult playing these two days. ... I practice a lot, serving aces. In the last point, my practice paid off."
He said the fan support made him forget his ailing stomach.
"The energy the fans gave me took away whatever discomfort I was feeling before every match," Del Potro said. "It was probably the best remedy for my health problems."
Del Potro set the tone on clay from the start. He broke Cilic in the first game, and two more times to win the set in 48 minutes. The former U.S. Open champion closed the set when Cilic returned a forehand into the net.
Del Potro was a fan favorite — for more than just his tennis.
Late in the first set he leaned over and kissed a butterfly, which hovered and then landed on the frame of his racket, prompting loud applause from the crowd at Parque Roca on the outskirts of the Argentine capital.
Cilic was clearly weary. He played a five-hour marathon on Friday in beating David Nalbandian, and then another five-hour match on Saturday in losing to Nalbandian and Eduardo Schwank in doubles.
The second set was much of the same. Del Potro broke Cilic in the fourth game and, and did it again to close out the set.
The third set was merely a formality. With a commanding leading, Del Potro played to the crowd, with the crowd responding, "Vamos, vamos Argentina."
"We knew it was going to be a tough series," Del Potro said. "People probably saw us as more of a favorite than we were."