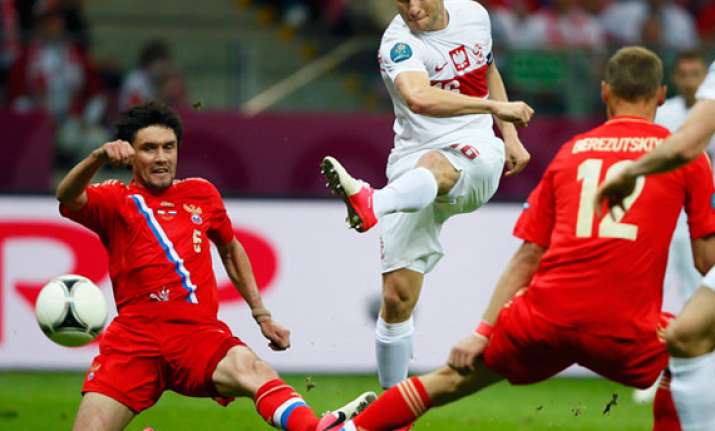 Wroclaw (Poland), June 15: With a place in the quarterfinals at stake, Poland is ready to make history against the Czech Republic.
The Euro 2012 co-hosts will be seeking their first victory of the tournament—and first quarterfinal berth ever at the European Championships—tomorrow at the Municipal Stadium following a pair of 1-1 draws against Greece and Russia in Group A.
"It's going to be a mini final for us," Poland captain Jakub Blaszczykowski said. "It'll be the biggest match in the recent past for all of us."
The Czechs are one point ahead of Poland after beating Greece 2-1 to revive their chances of advancing following an opening 4-1 loss to Russia.
A win for either team would put them through. The Czechs, however, could be missing captain Tomas Rosicky because of an Achilles tendon injury.
The hooliganism that took place around Poland's emotionally charged match against Russia on Tuesday is not expected to be repeated Saturday.
Unlike the Poland-Russia relations that are tense due to a bitter and bloody history, the Poles have an easier relationship with their southern Slavonic neighbors and have treated them accordingly.
The mayor of Wroclaw, where the Czechs are based and play all three group matches, hosted a lunch for the team at City Hall and thousands of Polish fans attended open training
sessions, cheering the Czech players and applauding every goal in practice matches.