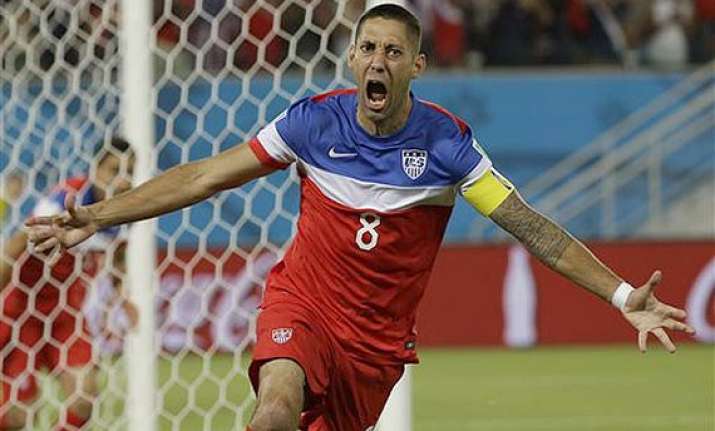 NATAL, Brazil :  Clint Dempsey scored one of fastest goals in World Cup history and John Brooks scored the game winner on a header in the 86th minute of a 2-1 U.S. victory over Ghana, which had knocked the Americans out of the previous two World Cups.
Dempsey's goal came on a low shot just 32 seconds into the match. The lead held until Ghana's Andre Ayew leveled in the 82nd minute. Ayew's goal appeared to have stolen the victory from the U.S., until Brooks' goal off a corner from Graham Zusi.  
Dempsey' goal made him the first U.S. player to score in three different World Cups and was the fastest ever scored by an American in the tournament. The US is now tied with Germany atop of Group G.
DaMarcus Beasley, the first American to play in four World Cups, passed the ball on the left flank to Jermaine Jones, who sent it on to Dempsey. The U.S. captain cut between Sulley Muntari and John Boye and beat goalkeeper Adam Kwarasey with a left-footed shot from 8 yards that went in off the far post, setting off raucous cheers from the red, white and blue-clad American fans at the other end of Arena das Dunas.   
The forward became the first American to score in three World Cups; Dempsey had goals against Ghana in 2006 and England four years ago as a midfielder. This was the first goal by an American forward since Brian McBride's against Mexico in 2002.   
The only faster goals were by Turkey's Hakan Suker (11 seconds against South Korea in 2002), Czechoslovakia's Vaclav Masek (16 seconds against Mexico in 1962), Germany's Ernst Lehner (25 seconds against Austria in 1934) and England's Bryan Robson (27 seconds against France in 1982).   
The U.S. held a lead for less than three minutes at the 2010 World Cup, after Landon Donovan's stoppage-time goal against Algeria, which propelled the Americans to the knockout rounds.
Dempsey finished the first half with a bloody nose after a kick to the face from Boye in a battle for a header.