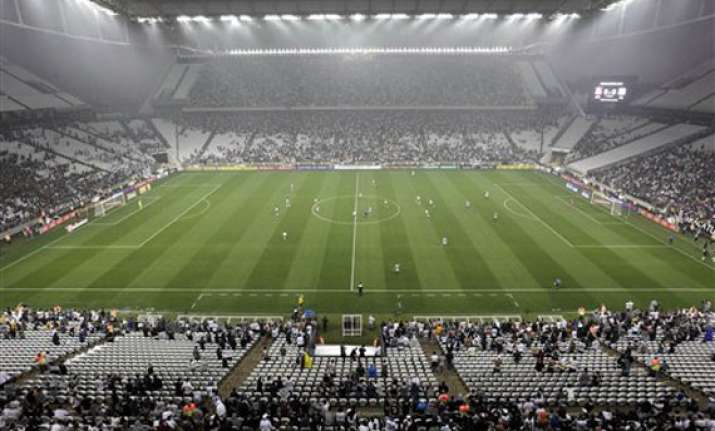 Sao Paulo: The final test event at the troubled World Cup stadium in Sao Paulo has been pushed back, soccer officials said Wednesday, raising fresh uncertainty about the arena's readiness to host the opening match of the tournament.
Saying it was responding to a request from local authorities, international soccer's governing body, FIFA, said the test game scheduled for Friday May 29 had been moved to Sunday June 1 to avoid disrupting the city's "operational routine" on a working day.   
FIFA said it also decided to stage the game on a weekend to "ensure it attracts more than 50,000" fans needed to properly test Itaquerao stadium.   
Less than 40,000 people attended the first test match at Itaquerao last weekend, when the 20,000 temporary seats being added for the World Cup's opening game couldn't be used.   
The new test event will be held less than two weeks before the high-profile World Cup opening game between Brazil and Croatia on June 12, when 70,000 fans and guests are expected.   
"It (is) vital for us that all facilities will be tested under full match conditions. Including the temporary seats (and) associated facilities," FIFA secretary general Jerome Valcke said on Twitter.   
The change in date came amid a strike by bus drivers in Sao Paulo that created chaos for people trying to get to work in the South American metropolis already known for its terrible rush-hour traffic.   
The World Cup opener falls on a Thursday, but city officials are expected to declare holidays on match days during the tournament.   
Only one test event had been initially scheduled for Itaquerao because it was among the most delayed stadiums for the World Cup. But FIFA said it was important to have another test there, "given the attention drawn from the opening match."   
Among the problems last weekend were a leaking roof and faulty communications for fans and journalists.   
Valcke arrived in Brazil on Monday to oversee Brazil's final preparations for the World Cup, soccer's premier event. He will tour all 12 host cities again to make sure everything is in place.