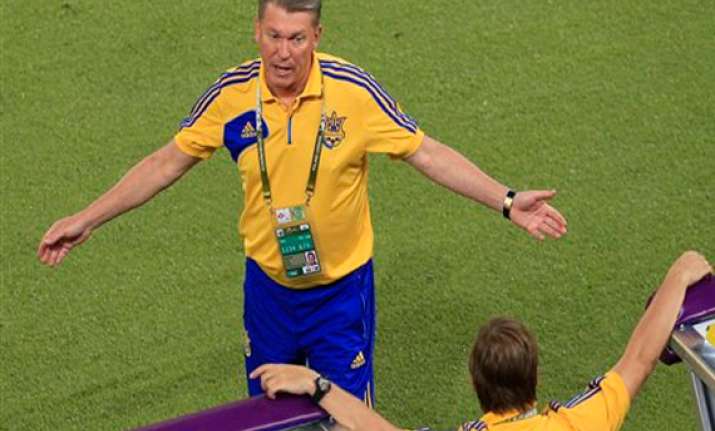 Ukraine, Jun 20:
  Playing at its own party, Ukraine held its own at the European Championship.
Regarded as a clear outsider in Group D, Ukraine was outplayed only by France. The co-hosts opened with a 2-1 victory over Sweden and probably deserved more in the 1-0 loss to England that knocked them out of the tournament.
"This team has great prospects and serious potential," coach Oleg Blokhin said.
Since starting his second stint as national-team coach in April last year, Blokhin has been working with a balanced mix of experience and youth.
But with captain Andriy Shevchenko among the Ukraine veterans who are retiring from international football, Blokhin will have to step up his efforts to bring in younger players.
Even before Euro 2012, the Ukrainian football federation extended Blokhin's contract until the 2014 World Cup in Brazil. The coach wants to give similar confidence to his players.
He described defenders Yevhen Selin, Yaroslav Rakitskiy, Bohdan Butko and Yevhen Kacheridi, midfielder Denys Garmash and wingers Andriy Yarmolenko and Yevhen Konoplyanka as "key components of the national team" for the future. All are aged between 21 and 24.
"My congratulations to our team and the whole Ukrainian nation," Blokhin said. "If you play like that against England and can still pile on the pressure in the 93rd minute, trying to score, then what kind of doubts can people have about our fitness?"
The game against England gave a preview of what Ukraine might look like when the teams meet in World Cup qualifying in September.
Shevchenko and his usual partner in attack, Andriy Voronin, who also announced his retirement from the national team, did not start in Tuesday's must-win game. The pair have made 185 appearances for Ukraine between them.
Instead, Marko Devic, 24, and Artem Milevskiy, 27, teamed up in attack and were assisted by Yarmolenko and Konoplyanka on the flanks, causing England's defense headaches.
Devic made the headlines for scoring what appeared to be a legitimate goal that was denied by the referee because the official standing beside the goal didn't see the ball crossing the line.
The incident revived the debate on goal-line technology and prompted FIFA President Sepp Blatter to write on Twitter on Wednesday: "After last night's match GLT is no longer an alternative but a necessity."
Popular daily Segodnya screamed on its front page, "Are you blind or what?"
In its main article, the paper wrote ironically, "Thanks, friends in black, you did us a real favor. Ukraine lost the match of life and death 1-0 ... Bravo, UEFA, we've put on a great Euro together."
Shevchenko ended up being the only player to score for Ukraine at Euro 2012. However, Blokhin's main worries might be focused on the team's defense.
All four of the goals Ukraine conceded came early in the second half of each match—with Sweden's Zlatan Ibrahimovic scoring in the 52nd, France's Jeremy Menez in the 53rd and Yohan Cabaye in the 56th, and England's Wayne Rooney in the 48th.
While that might be coincidental, the fact is that the defense looked vulnerable on the flanks, especially on the right. Oleg Gusev played at right back but is usually a midfielder.
Shevchenko believes Euro 2012 has helped the younger generation to become stronger.
"They have gained a lot of experience from this tournament," the former AC Milan and Chelsea striker said. "It will really give them the opportunity to feel stronger and feel they have played at the highest level of European football."
In the long run, Ukraine should benefit from staging the tournament alongside Poland.
Blokhin said the renovated and new stadiums throughout his country will attract more fans, which can only help Ukrainian football.
"The current atmosphere and facilities for supporters are like when you go to a theater," Blokhin said. "More supporters will come to the stadiums, which will influence the development of Ukrainian football. Without good stadiums and pitches, it is very difficult to raise the quality of the game."