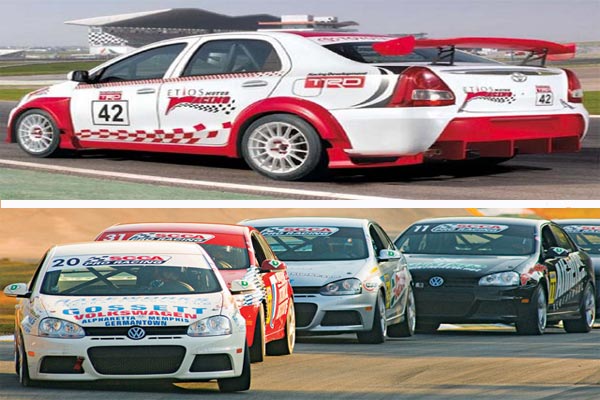 Chennai, July 25: In what promises to be a landmark weekend, the Volkswagen Vento will be making its debut in the FMSCI National Racing Championship with reigning national champion Arjun Balu at the wheel in the Indian Touring Car class.
The third round of the FMSCI-MMSC championship commences on Saturday with Friday earmarked for free practice sessions in all classes - the ITC, the Indian Junior Touring Cars, MRF Formula 16000, Formula LGB 4 and Swift, and the one-make Toyota Etios series.
Like the Vento, which was put together from a scratch by Balu's brother Sanjay and officially launched last week in Coimbatore by Team Tiger Sports, the Toyota Etios too will be taking its baby steps in the championship after a series of exhibition races last year as part of the launch.
For the racing aficionados, however, the main attraction would be the ITC double-header where Balu will be up against the country's top rally driver Gaurav Gill who is being fielded by Big Foots Racing run by Narayanaswamy Leelakrishnan. In fact, Leelakrishnan has opted out of the weekend's races while lending his car to Gill.
If anything, the Balu vs Gill, a former national racing champion, is expected to spice up the weekend, given the fierce competition that exists in tin-top racing. Balu currently heads the championship with two wins and three podium finishes in the five races run this season, ahead of V. Ramnarayan and Leelakrishnan who won three outings, but drew blank in the other two.
Chennai's Feroze Khan, the defending champion, is expected to dominate the IJTC class. Feroze, son of former national champion Ayub Khan, began the season by winning all the three races in the first round at this venue, but could manage only a third and 10th place finishes in the second round at Coimbatore where Mumbai's Mihir Dharkar and local lad Charen Chandran won a race apiece.
In the MRF 1600 class, Japanese drivers Yudai Jinkawa and Kizuki Hirota gave their Indian counterparts a run for their money with convincing wins while championship leader Ashwin Sundar will be keen to get back to winning ways on a track where he cut his racing teeth as a schoolboy.
Also to be watched are Bangalore's Sudarshana Rao, a commercial airline pilot, Vikash Anand and 15-year old Tarun Reddy who took pole position in only his second single-seater race in the previous round.
S. Narendran of Wallace Sports is the front runner in the Formula LGB 4 with two wins in Coimbatore while Anish Racing's Deepak Paul Chinappa and Sriram won a race each in the Formula Swift class.