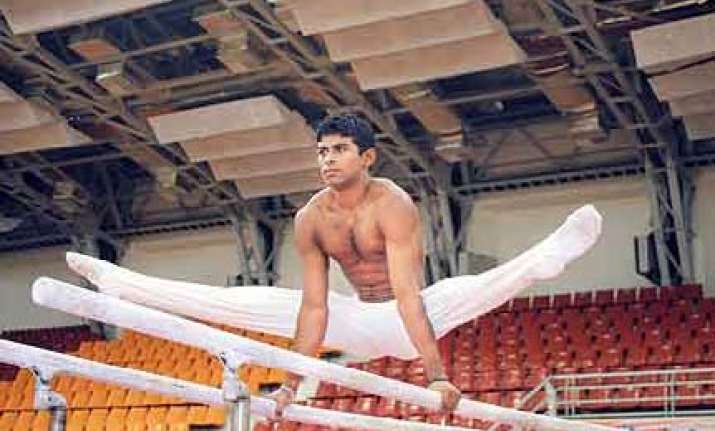 Gymnastics has never been more than a fringe sport in India. Thanks to some hard-working youngsters and a veteran coach, the picture is changing. With four Indians ranked among top 50, the hosts are upbeat about their chances.
Indian gymnasts didn't travel for any international meet for seven years prior to 2008. Since then, with CWG on the horizon, they have been to five World Cup series events, two World Championships and one long camp abroad.
Result? Three men and a woman are among top 50 world-ranked gymnasts now. They are Ashish Kumar (world No. 31 in the floor exercise and No. 44 in vaulting table), Partha Mondal (31st in parallel bars, 29th in roman rings), Rakesh Kumar (35th in Roman rings) and Dipa Karmakar (30th in vaulting table).
This gives hope to home gymnasts although history is not on their side: India have never won a gymnastics medal in CWG. Despite non-implementation of a planned schedule, India's chief coach Vladimir Cherktov (Russian-turned-American), who has been camping in Pune since August 2009, is optimistic of 5-6 medals from the squad.
Of course, like in many other disciplines, the field in gymnastics will hardly be world class at the CWG. Secondly, some stars from CW countries are focussing on the World Championship in Rotterdam, scheduled later in October. So they won't display their prowess in Delhi which should help India.
Cherktov praised his core group, saying they had worked hard to attain their present level. "Normally, it would have taken three-four years to achieve the kind of improvement they have shown in terms of fitness and technique. They have managed that in less than two years." Still, he is not quite happy with preparations because his schedule leading up to the Games has not been followed completely. And the American doesn't hesitate to blame GS Bawa, gymnastics competition manager, and other officials for this.
Firstly, the equipment didn't arrive on time. And now the players are left with the task of adjusting to them with little time left for the event. Earlier, they were practising on different kind of equipment at the Pune camp. Their trials on Monday was supposed to be on some outdated equipment, not even unpacked till the other day. Then, they participate in Federation Cup the next day on the same equipment. During the CWG, the equipment will be modern, something they have never used.
So, where is the 'home advantage?'
Core group
Men: Ashish Kumar, Partha Mandal, Vivek Mishra, Iqrar Hassan, Rakesh Kumar Patra, Raja Roy, Mayank Srivastav, Rohit Jaiswal, Alok Ranjan, Devesh Kumar Mishra.
Women: Dipa Karmakar, Priti Das, Gita Das, Paramita Das, Devjani Samanta, Roma Joglekar, Dwija Asher.
Chief coach: Vladimir Cherktov.
Other coaches: Shefali Malik, Ashok Mishra, Praveen Sharma, Joy Prakash Chakravarty.
Numbers game:
Competition dates: October 3-8, 2010
Total medals on offer:
Artistic: 14 (8 in men, 6 in women)
Team composition: Five plus two reserves each in men and women
Camp started on: August 12, 2009
Exposure: 6 foreign tours
Last CWG: Overall placing -- 7th
Top foreign star at CWG: Louis Smith (England)
Top Indian stars: Ashish Kumar (only Indian to have won a medal at the Asian level), Partha Mandal and Dipa Karmakar.