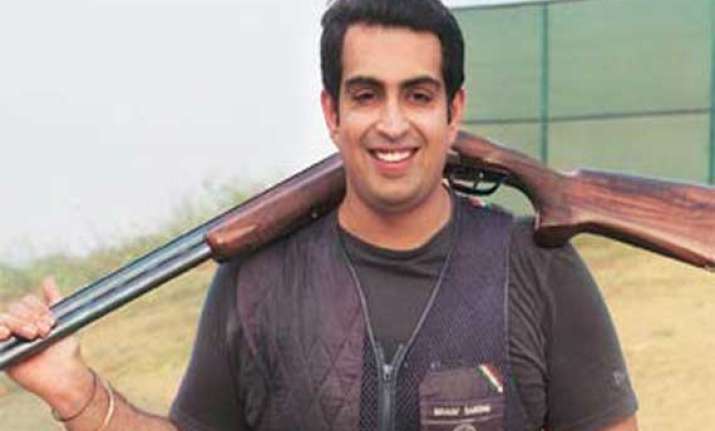 New Delhi: Eyeing an Olympic quota place this year, ace Indian shooter Manavjit Singh Sandhu says the gold medal at the recent ISSF World Cup is a proof that his preparation is headed in the right direction in a crucial season which also features the Commonwealth and Asian Games.
Manavjit produced some excellent shooting to clinch the men's trap gold medal ahead of a two-time Olympic champion and another equally proven marksman Michael Diamond at the ISSF Shotgun World Cup in Tucson, USA.     
"This win confirms that my training is going on well, my technique and equipment are in the right position. Therefore, I need to continue on this path with increased effort and dedication," Manavjit told PTI in an interview.     
The 37-year-old Rajiv Gandhi Khel Ratna awardee has made a few changes to his game. Manavjit said the World Cup medal acted as "validation" of his efforts in an "important" year.     
"The victory in Tucson was an extremely important event for me personally as it's a validation of the changes in equipment and technique that I have done in the last 14 months. Such validation is crucial in an important year.     
"Last year was full of near misses and good scores, but I needed the confirmation through a win. For me this is an extremely important year, and I am looking forward to it," the former world number 1 said.     
It was some achievement by the ace shooter as he was up against Australia's Michael Diamond, who had won the top prize in the 1996 Atlanta and Sydney Olympics in 2000, besides winning five gold medals at the Commonwealth Games. The bronze went to Russia's Alexey Alipov, who won the yellow metal at the 2004 Games in Busan.     
"Competing head to head with two Olympic champions on a single day and getting the better of both was indeed special. However, I feel that in shooting one simply tries to shoot their own target and then the score speaks for itself."