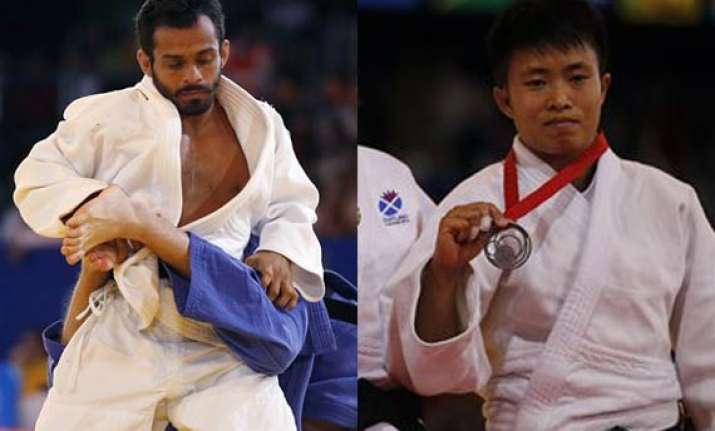 Glasgow: Indian judokas Navjot Chana and Shushila Likmabam had to be contend with a silver medal each after they failed to clear the final hurdle in the men's 60kg and women's 48kg events, respectively, on the opening day of competitions in the 20th Commonwealth Games here today.
There was a bronze medal for Kalpana Thoudam who won on the basis of conceding lesser penalty points against Christianne Legentil of Mauritius.
In the men's 60kg event, Chana, a 2010 Commonwealth Championships gold medallist, lost to Ashley McKenzie of England in the final.
The Indian lost on the basis of penalty points (shido).  Chana was handed three penalty points as against one by the Englishman. Both earned the same number of wazari points.
Earlier in the day, the Punjab judoka had faced a tough challenge from top-ranked Australian judoka Tom Pappas in the first round before winning on the basis of more yukos at the end of the five-minute bout though both of them got a penalty point each.
Navjot then knocked (Ippon) out B Dodge of Wales in the quarterfinals and went on to thrash D Le Grange of South Africa in another Ippon (knockout) result in the second minute of the semifinal bout.
Shushila (women's 48kg) showed tremendous form en route to the final round by knocking out her rivals on Ippon verdicts. She, however, was no match to Scotland's Kimberly Renicks in the final. The local judoka, egged on by her home fans, knocked down the Indian in the third minute of the final round bout with an Ippon (knock-out) verdict.
The Manipuri judoka began her campaign by thrashing M Medza Effa of Cameroon in just one minute 41 seconds before knocking out A Meyer of Australia in similar fashion in the quarterfinals. She then made it to the final after another thrashing, of her semifinal opponent, C Rayner, also of Australia, in an Ippon verdict in the third minute.
The men's bouts are of five minutes while the women fight for four minutes.
An Ippon (knock-out) or two wazari result in immediate conclusion of the bout.
Judo made a return in the Commonwealth Games after the 2002 Manchester event. This is the third time judo has been included in the Games, the first one being in 1990 in Auckland. India had won two medals in both 1990 and 2002.