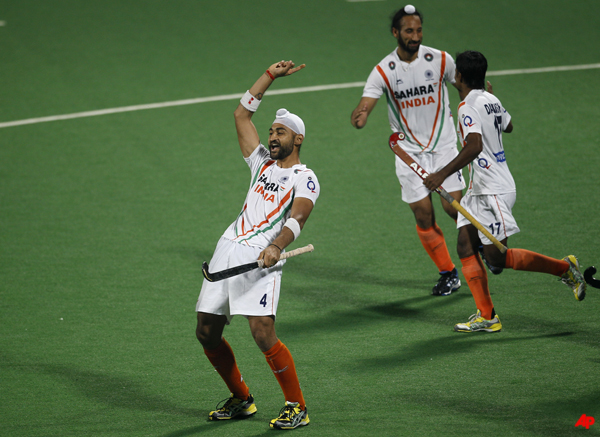 New Delhi, Feb 22: Indian hockey team on Yuesday outwitted france by  six goals to two in the Olympic qualifier match held at the National Stadium.

Sandeep Singh became the first Indian in the tournament to score a hat-trick.

Shivendra Singh, S.V. Sunil, Tushar Khandekar struck one goal each in India's third consecutive win. Lucas Sevestre andFabien Magner scored  for France.

With a clean slate, India is now comfortably seated at the top of thetable, while three sides — Canada, France and Poland — are tied on sixpoints.

India took the upper hand by scoring two goals within the first 10minutes. From the left, Khandekar provided the ball to Sarvanjit Singh, who pushed it to Shivendra on the goalmouth to complete the formalities in the fourth minute. Minutes later, Sandeep found the mark with his accurate drag-flick.

The host could have made it 4-0 in no time had S.K. Uthappa andGurvinder Singh Chandi not failed to tap the crosses from S.V. Sunil, who tormented the French backline with some lightening forays from the right flank.

Even though India was unable to inflate its lead in the next 22 minutes, it controlled the game well and foiled the tough French players' counterattacks. Ignace Tirkey and Sardar Singh switched roles to tackle the dangerous looking Martin Genestet, Simon Martin-Brisac and Olivier Sanchez.

Sunil, who exchanged a few passes with Shivendra while rushing forward, had a hand in the home side's third goal. He tripped to a Frederic Verrier tackle on the edge of the circle and India earned a penalty stroke. Sandeep had no problem in putting it into the net.

France tried hard  to reduce the margin and succeeded in the final moments of the first period. Manpreet Singh gifted away a short corner and Sevestre beat Bharat Chetri with his powerful flick.

Sandeep came back after the half-time to earn his hat-trick and Sunil finished off a fine move to take the match away from France.

Both sides hit the target once more each in the entertaining and high-speed encounter. Canada posted a 15-1 win over Singapore, while Poland thrashed Italy 7-2.