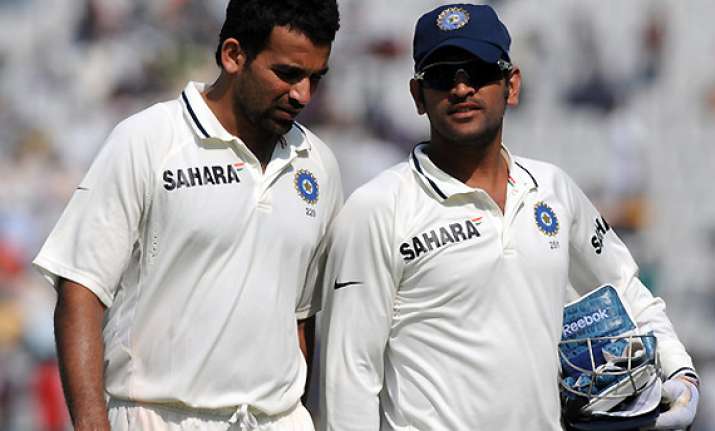 Colombo, Sep 22: Indian captain Mahendra Singh Dhoni on Saturday defended beleaguered speedster Zaheer Khan, calling him the "Sachin Tendulkar of Indian bowling" but at the same time indicated a few changes in the team line-up for the last World T20 group match against England on Sunday.
"It's easier to go after a bowler when is not doing well. For me, Zaheer is the Sachin Tendulkar of the Indian bowling attack. He has been the leader of the bowling unit for a number of years now," Dhoni said during the pre-match media interaction.
"He might not have been so effective in the last few matches but in those situations others need to step up. I believe it's a matter of time for him to get back to form," he added.
However, Dhoni looked a little circumspect when asked whether he would remain a 'Zaheer backer' even if the bowler's bad patch is a prolonged one.
"It's a difficult question to answer. Obviously, it depends on the format. For me, he is an experienced cricketer but then you have to look at the format. In this format you don't get too many matches."
With a place in the Super Eights already confirmed, Dhoni indicated that there were plans to make a few changes in the playing XI for their game against England.
"We are looking to make a few changes in the side. Obviously, we only name the playing XI on the day of the match. We ideally want most of our 15 members to get some game time in the middle before we get on with the Super Eights," he remarked.
The skipper has looked in good touch and it was his 8-ball 19 that helped India reach close to 160 but he is still not keen on dropping Yuvraj Singh down the order.
"In the Indian team, we have two types of players. We have to look at which player suits what slot. Suresh Raina is one such player who can hit a six off the very first ball while the likes of Virat and Yuvraj need to have a look at the bowling and play their shots once they get set," Dhoni said.
Virender Sehwag was hit in the knuckles during yesterday's net session but Dhoni insisted that "everyone including Viru is fit."
The inevitable question of Kevin Pietersen's absence cropped up and Dhoni did admit that it is difficult to replace a player of his calibre.
"It is very difficult to replace a player like Pietersen especially in this format. Also the fact that he can make a difference having done well across all the formats makes him a special player."
An English scribe asked that what exactly was their plan to counter 'KP', and Dhoni was quick to reply, "We knew that he is not in the squad so we didn't plan anything."
However, the Indian captain was full of praise for the England team for the manner they beat Afghanistan on Friday.
"Yes, it was a very good performance by the England team. But rather than looking at their positives, we need to worry about our own things and look at what all we can do to win," Dhoni stated.
The cliched question about playing four bowlers was asked and Dhoni was up and ready to defend the logic of not having a fifth specialist bowler.
"If we look at the Pakistan game, we had 12 players including five bowlers. Also in that match, it was our No 7 batsman ( Rohit Sharma) who won the match for us."