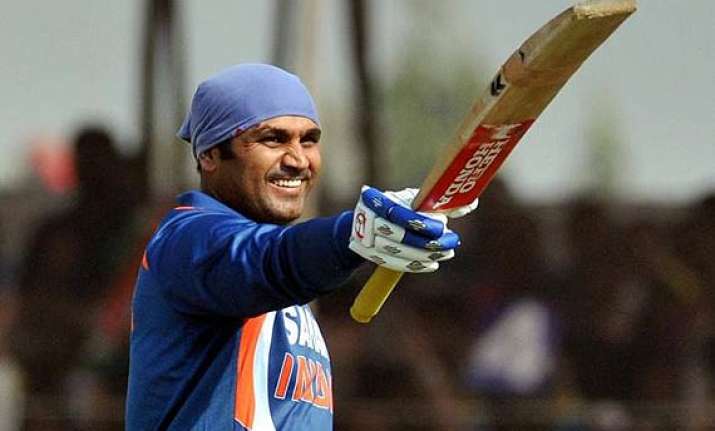 New Delhi : Senior batsman Virender Sehwag today conceded that he had not scored enough runs in the last season to be in the India team but said he would hope to be back in the reckoning with a good performance in the IPL beginning next month.
Sehwag, who was bought by Kings XI Punjab in players' auction early this year for Rs 3.2 crore, said he was looking forward to the IPL to come back to form and make his presence felt.
"Last season was not good for me as I was not making runs. But I hope I can do well in the IPL. It's a new team,new players. I hope I can justify the faith my new franchisehas on me,"
Sehwag told reporters at a programme to launch an U-14 cricket league for boys in NCR region, a tournament to be jointly organised by Sehwag Academy and dairy products company Kwality Limited.
Asked how long will it take for him to make a comeback in the national team, Sehwag said, "My duty is to score runs and it is for the selectors to decide whether I should be in the team or not.
"Last season, I did not score runs but if I do well in IPL, I may get a chance to come back in national team. It depends on my performance," said Sehwag who last played for India in a Test against Australia in March last year.
Sehwag, however, said that he was never low on confidence and his exclusion from the India team was due to "bad days" which every player will have to experience in his career.
"There was confidence even when I was not scoring. I have played for India for so long and it was because of bad days I was experiencing. Every player does experience bad days in his career," said Sehwag who has scored 8586 Test runs from 104 matches and 8273 runs from 251 ODIs.     
Sehwag scored a century for Marylebone Cricket Club against English county side Durham in Abu Dhabi a few days back, but asked about that, he simply said, "It feels good."
Asked how long he would want to carry on his career, Sehwag, now 35, said, "If my body permits, I want to continueto play for two-three years. Then I will take a call."