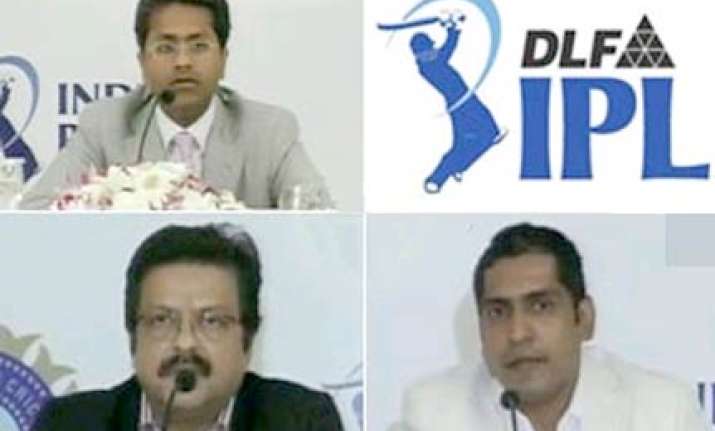 Sahara bagged Pune while little known Rendezvous Sports World Limited clinched Kochi as the Indian Premier League on Sunday unveiled two new teams joining the cash-awash Twenty20 league.  
IPL Commissioner Lalit Modi said Sahara Adventure Sports Group made an identical $ 370 million bid for three cities -- Ahmedabad, Nagpur and Pune.  
"They made the highest bid for all three cities and were asked to chose one of those cities. So Pune will be the home ground of their team," Modi told reporters in Chennai.  
Rendezvous Sports World Limited made the second highest bid today but their offer of $ 333.33 million was enough to land the Kochi franchise, Modi said.  
"In all, five groups qualified for the bid and I hope they make good business," Modi said.  
He also made it clear that there was no plans to have a second IPL abroad.  
"I'm always misquoted by the media. This is Indian Premier League and there is no plans to have a second IPL abroad.  
"We also have no plans to expand further immediately. In fact I don't foresee an expansion in many many years to come but then you never know," he added.  
Apart from the two successful bidders, other groups which took part in the bidding included Adani Groups and VC Digital Solution (Videocon).
Pune received three bids but Sahara's bid was way better than what Adani group (USD 315 million) or a Pune consortium (USD 261.3 million) could offer. 
The cities in the fray were Pune, Ahmedabad, Nagpur, Kanpur, Dharamsala, Vizag, Rajkot, Cuttack, Baroda, Kochi, Indore and Gwalior. 
The Videocon group apparently had the backing of Bollywood superstars Saif Ali Khan and Kareena Kapoor but they failed to bag a team. 
The minimum base price of the franchises for the next 10 years was USD 225 million. 
From 2011, IPL will become a 10-team league featuring 94 games. 
The bidding process was scheduled to be completed by March 7 but it got postponed after the bidders objected to stiff financial guidelines which were eventually relaxed. 
Modi said since Kerala Cricket Association is yet to complete their stadium, IPL would provide the new franchise an alternative venue. 
"Kerala Cricket Association are in the process of building the infrastructure and as when the stadium is ready teams will play there. But till the structures are ready, the IPL will provide them with alternate venue and that can be anywhere in India," Modi said.
Meanwhile elated after bagging Pune, Sahara spokesman Abhijit Sarkar said it was a matter of great pride for the company.
"Sahara is the biggest patron of sports in the country and we have been associated with the BCCI family for the last 15 years. So when we came to know about this proposition of cricket with business, we bid for IPL," he said.
"We considered the logistics and infrastructure of the cities. It is a thing of great pride for us that now we are a part of IPL family," Sarkar added.
A Rendezvous representative also expressed happiness after landing the Kochi team and said, "We are very happy to note that we have been successful in today's bidding and having the Kerala franchise. We are thankful to Lalit Modi for giving us this opportunity."
Modi also expressed hopes that the Pakistani players, who were shunned in this year's IPL auction, would feature in the Twenty20 league again.
"We hope the Pakistani players are allowed but this will be decided at the auction time during September-October," Modi said. PTI