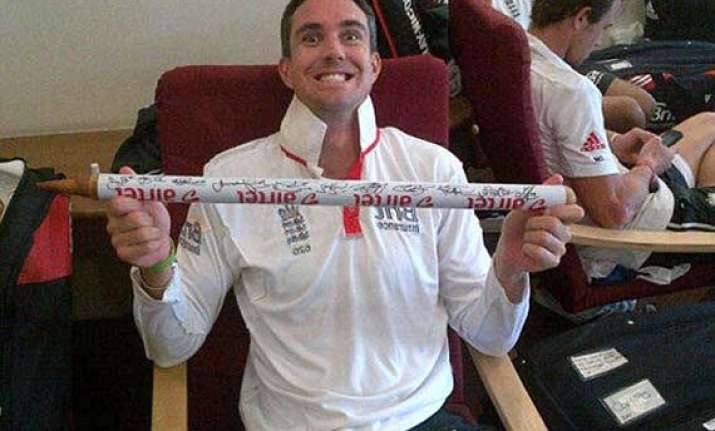 London: If reports are to be believed, as soon as  Kevin Pietersen was away from the public eye in the Sydney pavilion he whistled happily all the way into the England dressing room and continued as he sat down in his place alongside team-mates.
Pietersen's apparent nonchalance over his dismissal, at the start of an embarrassing clatter of wickets that left English cricket as a complete laughing stock, shocked his team-mates and the England management.
Some senior England figures believe he departed the international scene with a whiff of hypocrisy. His actions were considered another example of the attitude and poor example that had completely exasperated senior figures and convinced them it was the end of the road for their gifted maverick.
'It said everything about his apparent commitment to England,' one of the people in that dressing room told Sportsmail on Thursday, 'It confirmed we had lost our way, lost the team ethos that had taken us so far.'
In isolation it may not seem too serious but to a chastened England, who had welcomed Pietersen back after the Andrew Strauss text-gate scandal, it was pretty much the final straw.
Pietersen had started the Ashes as an integrated part of the England group but as time went on old habits began to creep back, with his behaviour starting to deteriorate after the Perth Test.
Sportsmail's information is that Pietersen was perceived to be  undermining coach Andy Flower, whom Pietersen tried to oust as batting coach when he led his failed coup against Peter Moores in 2008, and whose relationship never recovered from 'text-gate'.
There was the pivotal team meeting after the Melbourne Test, revealed in these pages on Thursday, where Pietersen misjudged the mood of other players and started trying to garner support for his anti-Flower stance.
Pietersen's decision to whistle a happy tune after his demise in the final Test was not the only time he clashed with his team-mates in Sydney.
Reports that he squared up to captain Alastair Cook are wide of the mark but the pair, did disagree over the best preparation for the final Test. Cook wanted to concentrate on fitness, where England had been found wanting, whereas Pietersen thought they should be working on skills.
It was then that Flower confronted Pietersen over what he saw as attempts to turn younger players against him after the  Melbourne meeting and decided in his mind that England's record runscorer had to go if they were going to emerge from the ashes of their worst ever tour with their team principles reinstated.
However, twenty-four hours after being dismissed by England, Pietersen took to Instagram to post a picture of him looking distraught after his final Test innings in Sydney as England crashed to a defeat that sealed their 5-0 Ashes humiliation.
'So sad that this will now be the last time I leave a field in an England shirt,' posted Pietersen. 'I love England and honestly hope they have every success in the future.'