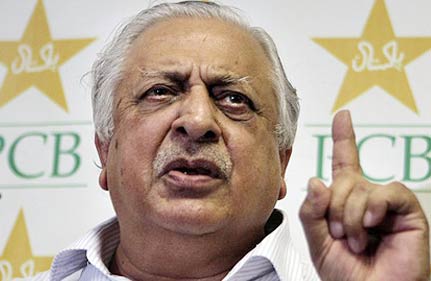 England Cricket Board officials were on Sunday night preparing a strong defence of charges levelled by  chairman of the Pakistan Cricket Board that some England players took money to throw the third NatWest one-day international at the Brit Oval last Friday, reports The Express, London.
Ijaz Butt's intervention earlier in the day, in which he had alleged England had deliberately lost the match, stretched tensions still further after Pakistan had once again been linked with possible spot-fixing.
Reading a prepared statement to Pakistani television, Butt claimed England's middle-order collapse before they lost the match by 23 runs had been forecast by bookmakers.
"There is loud and clear talk in bookies' circles that some English players have been paid enormous amounts of money to lose the match," said Butt. 
"No wonder there was total collapse of the England side." The ECB were on Sunday night holding an emergency meeting to consider a response to Butt's allegations.
Privately, sources suggested they remain "100 per cent confident" that the ICC's initial reaction indicating England players were not under suspicion in the latest allegations of spot-fixing still stands. 
On Saturday, the ICC confirmed that, acting on a tip-off from a newspaper, they were looking into allegations that Pakistan had manipulated their scoring rate to order in their innings.
England currently lead the series 2-1 with two to play, but there was no suggestion last night that the final two games – at Lord's today and the Rose Bowl on Wednesday – would not go ahead as planned.
The cost of cancelling them is understood to be a prohibitive £4million.
However, England captain Andrew Strauss admitted yesterday that he and his players are looking forward to being able to draw a line under a series that, he believes, has inflicted great damage on the game.
"The last thing the game needs now is to be dragged through the mill even further," he said. "All the players will be quite relieved when this series is over and done with, there's no doubt about that.
"It has been a very tough tour for the Pakistanis and a tough series for us to play in, given what has gone on off the pitch. But that shouldn't distract us from what we still need to do, which is to win two more games of cricket."