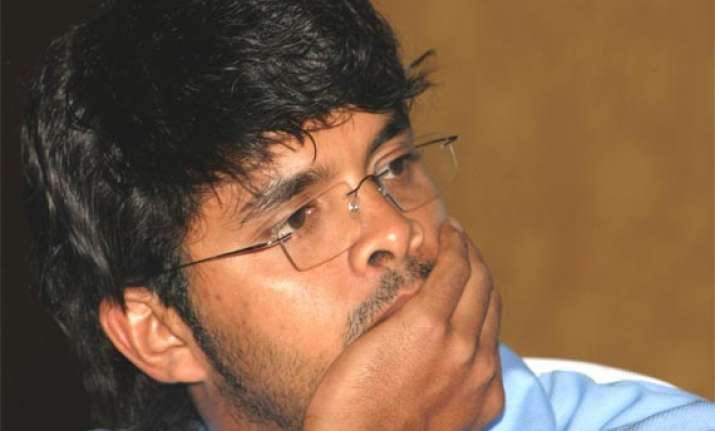 Mumbai, May 19: As Mumbai Police crime branch officials delve deeper into the connections of IPL spot fixers S. Sreesanth and Jiju Janardanan, they have found the name and phone number of a notorious Dawood gang bookie Sobhan Mehta alias Sokhan Kalachowki from Jiju's laptop.
Police also found condoms and sex vigour tablets from room no 1213 of Hotel Sofitel, where Sreesanth was staying.
A police source said, bookie Sobhan Kalachowki is infamous in Mumbai for posting bets from film stars and producers, procuring women for players, and throwing parties for foreign cricketers in order to carry out matchfixing. He had connections with Dubai and Karachi, sources said.
Crime Branch men got to know from bookie Ramesh Vyas picked up from Kalbadevi that Jiju Janardanan had direct links with Sobhan Kalachowki and Devendra Kothari (known as DK), and the latter two had taken bets for almost all IPL matches involving Rajasthan Royals.
Police is trying to find out whether Jiju introduced Sobhan Kalachowki and DK to Sreesanth and other RR players.
The clues may appear from cctv footage obtained from Hotel Sofitel, ORG Club and a hotel in Juhu to keep tabs on who met whom .
A backgrounder about Sobhan Kalachowki: He is very close to two masterminds sitting in Dubai : Sunil Abhaychandani alias Sunil Dubai and Prakash Chandnani alias PC, both of whom work for Dawood gang in India
Sunil Dubai is considered the mastermind for IPL spotfixings and Prkash Chandnani had invested money in producer Nitin Manmohan's film "Gali Gali Chor Hai". This was revealed by two bookies Sonu Jalan and Devendra Kothari when they were arrested last year. Prakash Chandnani has been underground since then, and Mumbai Police had issued an Interpol red corner notice for Prakash and Sunil Dubai
Sobhan Kalachowki is an original resident of Mumbai's Kalachowki area, but had shifted to Jaipur to carry out his betting business. He was arrested in 2005 when millionaire Deepa bar dancer Tarannum was arrested in a matchfixing case.
Tarannum had met Sri Lankan spinner Muthiah Muralitharan in a hotel near Deepa bar that year. Names of actor Aditya Pancholi and several other actors and players had cropped up in that case, but the police had arrested Sobhan Mehta and Tarannum only.
A team of Mumbai Police crime branch officials has already left for Jaipur in search of Sobhan Kalachowki.
A word about bookie Lotus: The bookie Lotus who was arrested on Saturday from Mumbai's Mulund is actually Pankaj Shah.  Lotus is the brother-in-law of a big bookie Laxmichandra Thana and carries out bookie business in Mulund.
Lotus was reportedly very close to Jiju Janardanan and had met him several times. Police is now hot on the heels of Laxmichandra Thana, who has gone underground .
Crime Branch is also trying to find out why Sreesanth did not play the IPL match at Wankhede stadium on May 15.
Rajasthan Royals had booked Hotel Trident for its players, including Sreesanth, but the latter chose to stay in Sofitel hotel, nearly 20 km away in Bandra Kurla complex alongwith Jiju.
Police is trying to figure out why Sreesanth did not play that match, and spent leisure time at the ORG club in Khar.
A Crime Branch team led by Inspector Ajay Sawant, Nandkumar Gopale, Dilip Fulpagare and Satardekar is probing deep into the movements of Sreesanth and Jiju Janardanan from May 13 to 15, when the two were picked up at night by Delhi Police.