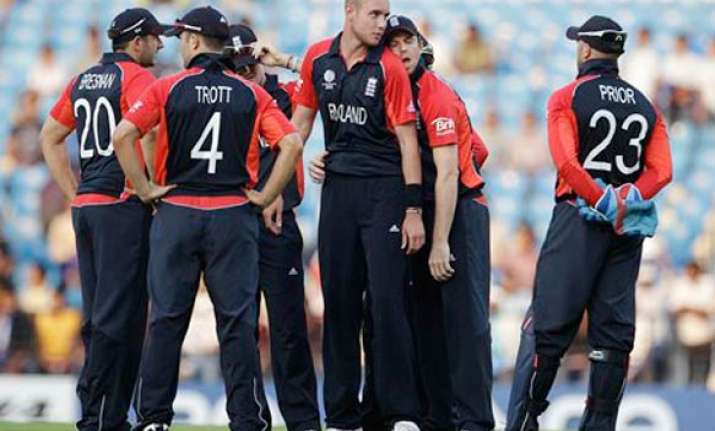 Bangalore, Feb 25: England pacer Stuart Broad today said his team will have to put up a vastly improved bowling performance, especially in the death overs, to thwart India in their much-anticipated Group B encounter of the cricket World Cup here on Sunday.
England's bowling was all at sea against minnows the Netherlands, who notched up a competitive 292 in their opening group match.
England chased down the target successfully but the pathetic bowling performance left even their captain Andrew Strauss "shell-shocked".
Broad promised an improved show on Sunday.
"Mentally we know where we have to bowl. In the last game against the Netherlands we didn't execute our plans. We were very expensive than what we would have liked. We have got good plans to bowl on these kind of wickets. We just need to execute those plans. Our bowlers didn't hold their hands up in the last match. We have to go back and practice hard," Broad said after practice here.
On coping with the spinning tracks in the sub-continent, Broad said, "We will have to see how the pitch is developing. KP has played a lot of cricket and he has said the ball comes through nicely here. But there will be couple of patches out there and if they are there, we will play two spinners. But we will see on Sunday morning how the pitch is and we will see how to go about it."
"We are enjoying the tour. Coming Sunday is going to be a huge game for us in this world cup.  Obviously each game is Important for us to get through the group stage. We are looking to get some momentum in the world cup and progress to the next stage. Obviously we cannot do that before winning our match on coming Sunday," he added.
Talking in retrospect about their game against Netherlands, Broad said credit must be given to Dutch all-rounder Ryan ten Doeschate, who scored a hundred and also picked up a couple of wickets.
"In Nagpur, the wicket was good and the outfield was fast. We didn't bowl the length we could have liked. They played well and then Doeschate played a great one-day innings. We bowled too many short balls.
"It worked in the first few overs but when the ball got soft, it didn't bounce enough. Probably, we didn't have our variations right. We didn't bowl the slower balls at the right time. There is no need to panic from the bowling point of view," he added.
Broad said he expects the match against India to be an exciting one and his team will have to come up with a better bowling performance in the closing stages.
"The main area to improve is the death bowling. We gave too many extras which we need to cut out. But we have got the win under our belt and we can move forward what can be an exciting prospect come Sunday. Any England-India battle is always exciting," he said.
Playing in front of passionate Indian fans can always be an intimidating proposition for the any visiting team but Broad said the English would use the atmosphere to their advantage.
"It is exciting to play here. We played here three years back and it was an absolutely electric atmosphere, the sounds just bounce around the ground. We have used that to our advantage. We are obviously going to get pumped by the crowd and keep our emotions in check.
"The whole occasion is going to be fantastic and whoever controls the emotions better will come on top. The crowd will be Indian dominant. It is going to be a great experience for the players involved. But the crowd doesn't change the way you bowl or where you hit it," he said.
On the impact of the Umpire Decision Review System in the World Cup, Broad said, "It's a hard system without the Hot Spot in place, because it is difficult to pick up the edges. It's very useful for the lbws. But if you get a nick behind you can't pick it and then It is really not worth it.
"There is a little bit of tactics involved where you have to choose which batsman to use it against and which batsman not to."
Talking about England's preparation as far as tackling Indian spinners is concerned, Broad said "It's important to have a positive mindset while batting in the sub-continent. That's the way we have played our one-day cricket in the last 18 months. Our batsmen are excited about facing the Indian bowlers.
"We are a world-class team and there is no reason why we can't express ourselves the way we have done against South Africa and Pakistan in the summer. We can play one-day cricket and we are going to turn up on Sunday and show that," Broad said.
As for their plans for dashing Indian opener Virender Sehwag, Broad said he would not discuss team strategy in front of the media.
"He started the World Cup in amazing fashion. It's up to the bowlers to bowl at areas where he is not that strong. We have to really work on that and ensure that India doesn't get a flying start. We know that with the new ball it's a good time to bat in the sub-continent.
Asked whether the English would use the short ball against the Indian batsmen, Broad said all these strategies would depend on situations.
"We have to use the bounce and catch the batsman by surprise. It's something we talk about and I don't think it's not about using it against the Indians and not against the Aussies. If you get the bounce right it causes trouble to anyone in the world," Broad explained.
Broad said England's experiment with Kevin Pietersen as opener would continue on Sunday as well.
"Pietersen's experience in Bangalore will help him opening the batting. KP said that it's a bouncy wicket in Bangalore. KP knows that the first 10 overs will make a real impact on the game and Strauss is also in good form. KP will be trying to find boundaries earlier. PTI