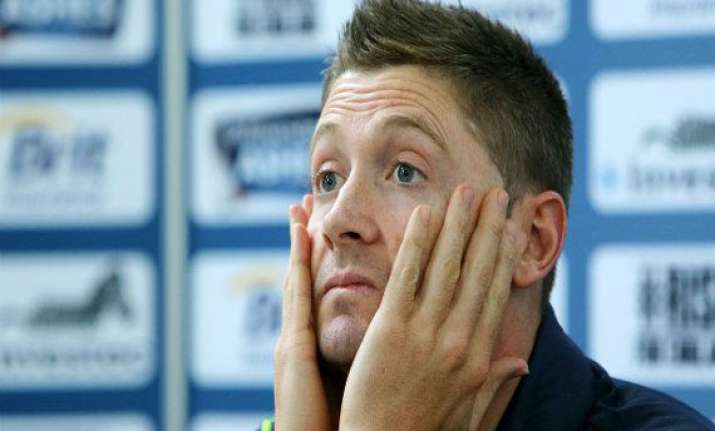 Melbourne: Former Australia captain, and one of the highest run getters in cricket history, Ricky Ponting revealed that during his leadership present captain Michael Clarke would never get involved in planning sessions or debriefs at the end of  a day's play and he never volunteered to take on any of the captain's work load.
Ricky Ponting in his new autobiography, 'At The Close Of Play',  reveals the serious concerns he had about Michael Clarke's personality within the national team.
Ponting says, "It was true that I'd been a little disappointed with some of the things he'd done - or more accurately, hadn't done - as vice-captain, but I was now comfortable with the idea of him taking over."
He further reveals that more than once, Tim Nielsen and I had encouraged him to take on more of a leadership role within the group, but when Pup was down on form or if he had a problem away from cricket, he'd go into his shell.
"I knew he was an excellent thinker on the game, but for a long time I was concerned that he wouldn't be able to handle the huge variety of 'little things' that go with being Australian captain. I wished him all the best and he thanked me for everything I'd done for him. He also said he hoped I was going to keep playing."
The book recounts, "Back in 2004, I'd been the reason Michael made his Test debut. When I broke my thumb and had to miss the first three Tests in India, Pup was preferred to Brad Hodge as my replacement, in what must have been a close call.
"It was the selectors who made that decision but from back in Australia, where I was working to get my thumb right, I fully supported their verdict, arguing that it was time to 'give the young bloke a go'. Pup justified his selection in superb style, scoring 151.
"A few weeks later, when he scored another hundred during his first Test appearance on home soil, it seemed we had found our next great batsman.
"However, his progress stalled over the course of the next 12 months, and by the following Australian season, 2005-06, it was obvious he was about to be dropped.
"He wanted me to be the one who told him he was out, even though I wasn't a selector, which I think showed how close we'd become. I'd taken him under my wing a bit, as a mate and as his captain.
" Pup remained a good trainer and we could all see that he loved playing for Australia and was determined to do well. But away from cricket, he moved in a different world to the rest of us.
"It never worried me if a bloke didn't want a drink in the dressing room, but I did wonder about blokes who didn't see the value in sticking around for a chat and a laugh and a post-mortem on the day's play.
"This was the time when we could revel in our success, pick up the blokes who were struggling, and acknowledge the guys who were at the peak of their powers. Pup hardly bought into this tradition for a couple of years and the team noticed.
"At times, he reminded me of a teammate from earlier in my career, who'd be chirpy and bubbly if he was going well, but appear a bit grim if things weren't working for him.
"The best team-mates are the ones who can keep their moods in check for the sake of the group.
"He now seemed happy to take on the planning, media and administrative duties that he'd veered away from when he was vice-captain and the mood in the Aussie dressing room was positive. Perhaps I'd been wrong to be so concerned for so long."
Clarke is not with the touring Australian team due to back problem.