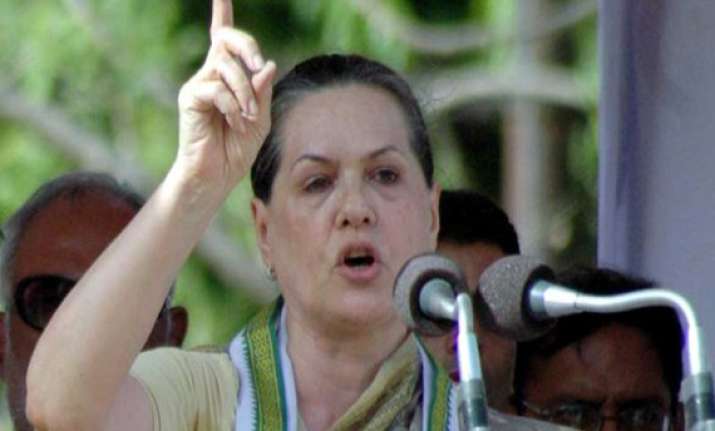 Karimnagar: Kickstarting her election campaign in Telangana, Congress president Sonia Gandhi today sought to take full credit for her party for creation of the new state and trained her guns on TRS for speaking the language of "intimidation".
Addressing a public meeting in this district headquarters town, considered the battleground for statehood movement after the Telangana Bill was passed in Parliament, Sonia said "there is no doubt that without Congress, the formation of Telangana could not have been realised."
"It was only Congress which decided to form a separate state of Telangana. It was only Congress which prepared the Bill and it was only Congress which got it passed in Lok Sabha and Rajya Sabha," she told a well-attended rally on the sprawling Ambedkar Stadium here.
The UPA chairperson sought to puncture TRS (Telangana Rashtra Samiti) which had been claiming credit for the formation of the state and had refused to merge or even enter into an alliance with the national party.
BJP had opposed the Bill in Rajya Sabha till their "last breath" while  TDP had done so with all its might in Lok Sabha. YSR Congress Party had left no stone unturned for stalling the Bill, she said.
"TRS had no role in drafting the Bill and passing the Bill," said Gandhi. "Now the era of agitation (for separate state of Telangana) has ended. Now...the time is to run a responsible government and only Congress can do this task.
Congress takes everybody together and talks to everybody. On the other hand, TRS only talks about a language of scaring and threatening (intimidation)," she alleged.