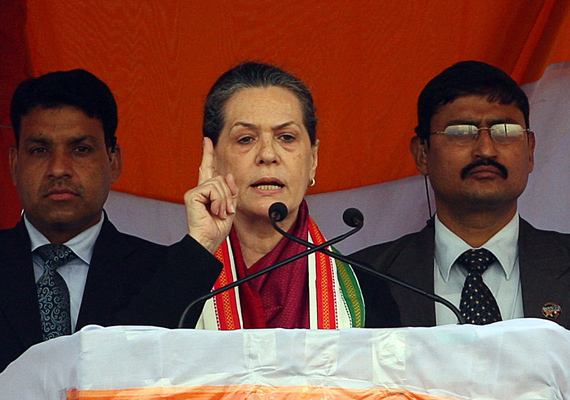 Saharanpur(UP), Feb 26: Escalating attack on the ruling BSP in Uttar Pradesh, UPA chairperson Sonia Gandhi today alleged the state has become a "mascot of corruption" and funds worth crores given by the Centre has vanished under the nose of Chief Minister Mayawati.

"Instead of targeting BSP, opposition parties in UP are busy targeting Congress, however, under the rule of Mayawati the state has become a mascot of corruption," Sonia said while addressing a rally in Gandhi park of the city.

The UPA government gave lakhs of crores to the UP, but due to the state government's corruption, the money vanished into thin air, she claimed.

The BSP government has snatched bread from the poor, instead of providing them with ample opportunities to earn it, Sonia said.

Many leaders are in "pain" due to our government's decision of carving out reservation for the minority community, the Congress leader said, adding that the party will fulfil all the promises made to the people of the state.

Politics is a tool to serve the countrymen, however, for last 22 years people of UP were "misruled and looted" by successive governments, she said.

Talking about the policy achievements of the Congress-led UPA government, Sonia said, "We reserved 50 per cent seats in Panchayats for women, farmers are our bread givers so we had announced a Rs 70,000-crore farm loan waiver scheme for those under duress."

She claimed that in UP farmers are not getting electricity and fertilisers, there is no improvement in condition of roads and education, law and order is not good, small industries are in shambles.

Several other party leaders, including Digvijay Singh, Rita Bahuguna Joshi were also present in the rally here.