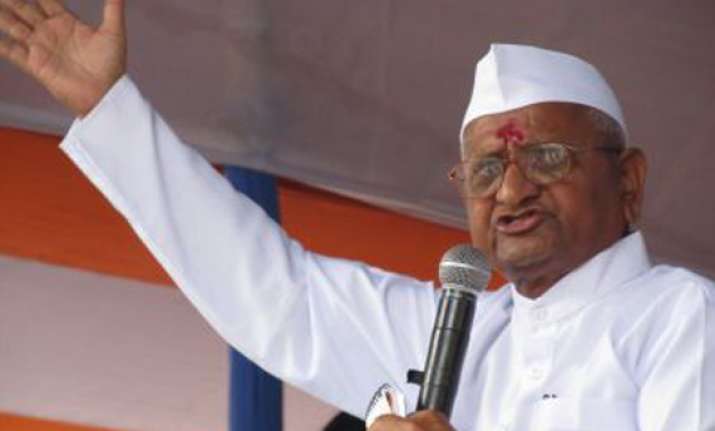 New Delhi, July 24: Following is the timeline of Team Anna's agitation for Jan Lokpal bill :
•
Feb 26, 2011:
Anna Hazare calls press conference, announces that he would go on fast unto death from April 5 if Prime Minister Manmohan Singh did not take a decision on including civil society in drafting the Lokpal Bill. Expresses frustration on several letters written to PMO on the issue being ignored.
•Feb 27: Rally taken out from Jantar Mantar to Ramlila ground under banner of Bharat Swabhiman, for stringent Lokpal Bill and to bring back black money stashed in foreign banks.
•March 3: Prime minister writes to Anna Hazare, invites him for discussion.
•March 7: Anna Hazare meets Prime Minister Manmohan Singh along with Kiran Bedi, Swami Aginvesh, Prashant Bhushan, Shanti Bhushan.
•March 8: Prime minister sets up sub-committee to look into the Lokpal Bill, members include ministers A.K. Antony, M. Veerappa Moily, Kapil Sibal and Sharad Pawar.
•March 28: Activists meeting with sub-committee remains inconclusive, Anna Hazare says he will go on fast as scheduled.
•April 4: Anna Hazare confirms fast from April 5, calls upon the nation to join in. Prime minister expresses his 'deep disappointment' at the decision.  
•April 5: Anna Hazare, along with supporters pays tribute to Mahatma Gandhi at Rajghat, marches from India Gate to Jantar Mantar where he starts fast. Supporters join the protest from 400 cities, more than 5,000 gather at Jantar Mantar. Main opposition BJP extends support, Congress calls it premature.
•April 6: Fast enters second day, government members say they are not adverse to civil society's suggestion. Sharad Pawar withdraws from a sub-committee following verbal attack from the activists.
•April 7: Fast enters third day; activists meet sub-committee members, meeting remains inconclusive.
Movement gathers momentum, film personalities, politicians extend support. Candle light march taken out in Delhi.
•April 8: Anna Hazare announces he will end fast Saturday morning after government agrees to notify formation of a panel, with 50 percent civil society members, to draft the anti-corruption law and introduce it in the monsoon session of parliament. Swami Ramdev joins Anna on stage, dances to the revolution creating history.
•April 9: Anna Hazare ends fast around 11 a.m. after government issues notification. Prime Minister Manmohan Singh says the Lokpal Bill will be introduced in the monsoon session of Parliament.  
8 June 2011- Protest against atrocities against Swami Ramdev and his supporters
On 8 June Anna Hazare and thousands of his supporters fasted from 10 am to 6 pm at Rajghat to protest against the midnight crackdown of 5 June by the Delhi Police on Swami Ramdev's fast at Ramlila ground protests.   
15 Aug 2011- Timeline of Anna Hazare's anti-corruption movement at Ramlila Ground
•August 15, 2011: Delhi Police says no to Anna Hazare's fast at the Jaya Prakash Narayan park after the Gandhian and his team declined six of the 22 conditions laid down by the cops.
•August 16: Delhi Police arrests Anna from his house in Mayur Vihar in the morning. The government orders his release from the Tihar Jail in the evening but Anna starts his fast in jail and refuses to leave Tihar until he is allowed to protest.
•August 17: Anna stays in Tihar even after the police offers him a threeweek protest at Ramlila Maidan, virtually without any condition.
•August 18: Anna accepts Delhi Police's offer to allow 15-day protest at Ramlila Maidan but stays in Tihar.
•August 19: On 19 August, at around 12noon IST, Anna left Tihar jail after 3 days. Supporters welcomed him with spontaneous roar as he headed towards Delhi's Ramlila Maidan to launch his hunger protest.
•August 20: Prime Minister Manmohan Singh extends olive branch to Anna. Says there is a lot of scope for give and take. 
•August 21: Government opens backchannel negotiations. Team Anna claims to receive a proposal from the government which had "nothing new".
•August 22: Team Anna says either the PM, Rahul or a senior Union minister should lead the negotiations. The Congress core group meeting resolves that Parliament's sovereignty is non-negotiable.
•August 23: Team Anna meets Pranab Mukherjee; plays tough, insisting on introduction of a single Bill and its passage in the present session. Govt agrees on bringing PM under Lokpal's ambit.
•August 24: Govt holds all-party meeting; draws a hard line. Team Anna says the Gandhian could be picked up by the police.
•August 25: PM reaches out to Anna; assures discussion on Jan Lokpal in the House. Anna puts forward three specific conditions regarding citizen's charter, Lokayuktas and inclusion of lower bureaucracy under Lokpal's purview.
•August 26: Govt agrees to include Anna's conditions in the House debate; moves a short duration discussion motion in Lok Sabha but the BJP shouts it down, demanding debate under a rule that entails voting.
•August 27: Parliament holds a rare sitting on Saturday; discusses the Jan Lokpal Bill and Anna's conditions. By afternoon Team Anna claims it has been betrayed, demanding a resolution and voting on the Bill. The House adopts a resolution by voice vote and Union minister Vilasrao Deshmukh and Congress MP Sandeep Dikshit conveys the sense of the House to Anna and his team.
•August 28: The Gandhian crusader agrees to break his 12-day-long fast at 10 am on Sunday.   
27 December 2011- Fast on MMRDA ground
On 27 December, Hazare began a 3–day hunger strike at MMRDA grounds, Bandra Kurla Complex, to demand a stronger Lokpal bill than was in debate.  Hazare ended the fast on 28 December, after his doctors said that his kidneys might fail if he continued. 
25 March 2012- Anna Hazare fasts at Jantar Mantar, demands protection for whistleblowers
Anna Hazare sat on a one day token fast. Justice Santosh Hegde also joined the movement. Focus for the day was whistleblowers like Narendra Kumar and Satyendra Dubey who lost their lives in fight against corruption. People in India's major cities showed there support to this movement on March 25, 2012. 
June 3, 2012- Anna Hazare on a one day fast along with Yoga guru Ramdev at Jantar Mantar